mp3s: February 2008 Mix
Fucking February, I totally didn't get a chance to post my monthly mix for February 2008. So now that it's Smarch, sit back, relax, don't go outside, and listen to some mp3s from a little over a year ago. Ladies and Gentlemen, I give you…
The February 2008 Mix
Negative Thinking (mp3) by The Death Set
88th Precinct (mp3) by Team Robespierre
Excuse Me Dog (mp3) by Low Scores
Puerto Rican Jukebox (kill rock stars mp3) by Panther
Big Big Big Big Big (big mp3) by Dan Deacon
Lovely Allen (No Age Remix) (mp3) by Holy Fuck
Blue Skies (fanatic mp3) by Die! Die! Die!
Chipping Ice (mp3) by These Are Powers
You Can't Do That To An Axe! (s.a.f. mp3) by The Mae Shi
Van v Art (sxsw mp3) by Necropolis
Hang Them All (beggars mp3) by Tapes 'n Tapes
Lovely Weather (Live On Fair Game) (public broadcasting mp3) by The Vandelles
Right Away (home tapes mp3) by Pattern Is Movement
Top Drawer (mp3) by Man Man
Encouragement (mp3) by Bandit Teeth
Deja Vu (lumberjack mordam mp3) by SSM
Love Your Spaceman (mp3) by Robert Pollard
Nosy Parker (mp3) by The Tremolo Beer Gut
Down To Rest (sxsw mp3) by O'Death
Steven Fucking Spielberg (sxsw mp3) by Bearsuit
Morning Birds (cash mp3) by Kristin Hersh
Makeshift Fallout Sifter (mp3) by Rob Markoff
Gilt Complex (Acoustic) (mp3) by Sons And Daughters
BONUS TRACKS:
Balloons (sub pop mp3) by Foals
Max Ernst (matador mp3) by Mission Of Burma
Body Rot (mp3) by The Magik Markers
Sideways Here We Come (s.a.f. mp3) by Die! Die! Die!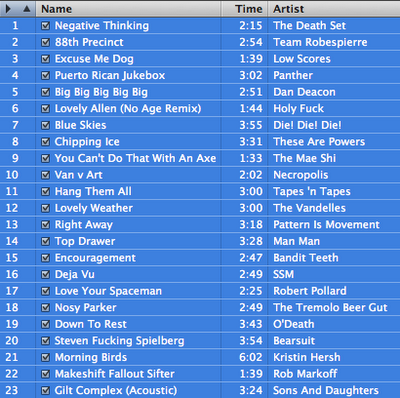 (Slightly) Related Posts: