mp3s :: NOT POSTED Mix, Vol. 8
It's time to listen to the tracks I have not posted recently. Here is the next NOT POSTED mix. These are some of the songs that would get their own individual posts here on GIMME TINNITUS, if I only had the time. This mix starts out with a party jam and ends all indie rock. Listen.
Downloadables:
Partee Hardee (mp3) by Javelin
See Spaces (Jacob Safari Remix) (mp3) by Teeth
Anything Above Nothing (mp3) by These Are Powers
Helicopter (Star Slinger Remix) (mp3) by Deerhunter
(D/L more Starslinger @ his official web presence)
town business (feat. Kassa Overall) (mp3) by Das Racist
(D/L the Sit Down, Man Mixtape @ MAD DECENT)
Icarus (worriedaboutsatan Remix) (mp3) by White Hinterland
Why Like This? (mp3) by Teebs
Computer Kaki (mp3) by Adaledge
Over There (mp3) by Banjo or Freakout
Never Seen Amen (mp3) by Oreaganomics
Light from the Mesa (mp3) by Barn Owl
Number Two (mp3) by Twig Harper & Daniel Higgs
Le Dernier Mot (mp3) by Ô Paon
Never Yours (mp3) by Low Sea
Gasoline (mp3) by Narchitect
(D/L more Narchitect @ the Feel Free blogspot)
weatherman (mp3) by Fay Wrays
Sucker Punch (mp3) by Coma Cinema
(D/L Stoned Alone @ comacinema.org/)
Taters (mp3) by VACATION DAD
(D/L WGWB & Friends Volume 3 @ White Guys With Beards)
(Order the WGWB & Friends Volume 3 tape @ Wonder Beard)
Be sure to check out the other NOT POSTED mixes.
And if you like what you hear you should probably purchase music from the above artists at any of these fine online retailers (or your local independent record store):
Insound | Amazon MP3 | eMusic | Other Music
Also, If you want to download all (or most of) the tracks in this post, you should probably think about installing the DownThemAll! or FlashGot Firefox extensions.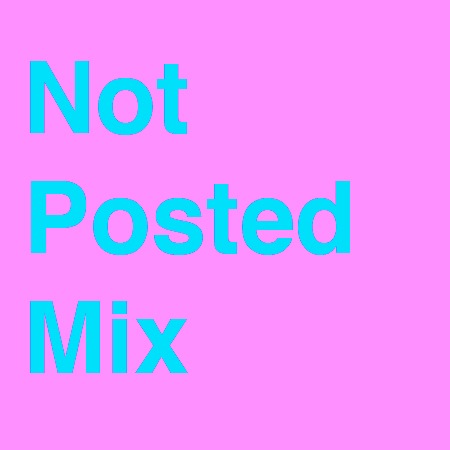 (Slightly) Related Posts: