mp3 :: Physical Forms > Wax On
So, you all know Busdriver a/k/a Regan Farquhar has a new band featuring members of Mae Shi, Division Day, Silver Daggers, Hiking, The Little Ones, and Bad Dudes, right? Right. Physical Forms. Yes.
Coming out today on lovely yellow vinyl via Polyvinyl Records is the Physical Forms split 7″ with the Busdriver/Deerhoof collab which has branded Hoofdriver. If you missed it earlier, here is the mp3 of the Physical Forms song.
Downloadable: On the Brink (mp3)
You can order the Deerhoof/Physical Forms 7″ (limited edition of 1000) @ the Polyvinyl Records webstore.
And the Sean Carnage weblog has an interview with ex-Mae Shier and current Physical Former Jeff Byron which you should probably read… here.
Also, Physical Forms are reportedly "kneedeep" in the recording process for their full length debut album. I hope you like Karate Kid references, cuz the first track from new album that the band has shared with us could be on the soundtrack the next time Hollywood remakes that movie (and you know they will) . Listen.
Downloadable: Wax On (mp3)
Physical Forms are on Myspace
Physical Forms are on Facebook (page)
Physical Forms are on Facebook (profile)
Physical Forms are on Youtube
Physical Forms are on elbo.ws
Physical Forms are on Hype Machine
Physical Forms are on Polyvinyl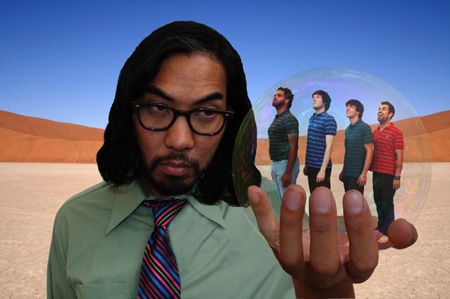 (Slightly) Related Posts: