mp3 :: BOAT > Forever in Armitron
Dress Like Your Idols is the latest release from BOAT on the Magic Marker record label. It is also their first in a professional studio (the now-defunct Two Sticks Audio in Seattle). The awesome album art pays tribute to album covers of the 90s and beyond — D Crane-style. The band still plays the same raucous indie pop. It's just not as "sloppy" as it used to be. Listen.
Downloadable: Forever in Armitron (mp3)
You can purchase the CD or LP of Dress Like Your Idols @ magicmarkerrecords.com, while the digital can be procured @ amazon.com or emusic.com (whichever you prefer).
"TOUR LIKE YOUR IDOLS" Upcoming NYC Shows:
BOAT was part of our q and also a series.
BOAT is on the internet
BOAT is on Soundcloud
BOAT is on Twitter
BOAT is on Facebook
BOAT is on Myspace
BOAT is on Youtube
BOAT is on elbo.ws
BOAT is on Hype Machine
BOAT is on Magic Marker
BOAT is on Insound
BOAT is on Amazon MP3
BOAT is on eMusic
MEGA BOAT BONUS:
(I'll Beat My Chest Like) King Kong (mp3)
Lately (mp3)
(I'm A) Donkey for Your Love (mp3)
Last Cans of Paint (mp3)
Tractor Rape Chain (GVB Cover) (mp3)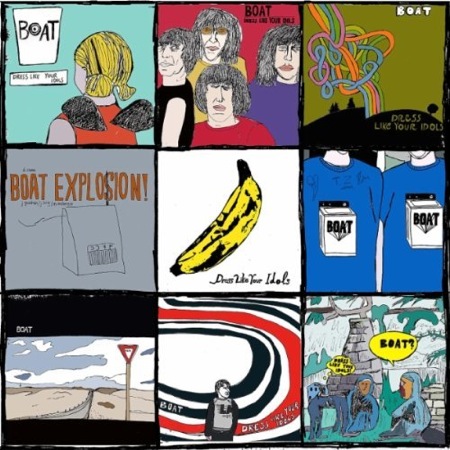 (Slightly) Related Posts: