mp3 :: Haunted Horses > Pariahs
As Haunted Horses, Myke Pelly (also of Footwork) and Colin Dawson do create a creepy cacophony using guitar, drums and a variety of electronics. Maybe you saw them mentioned in that New York Time's Seattle, Post Grunge slideshow (around the anniversary of Nevermind)? Well, the band has a new self-released EP called They Set Us Fevered Water that is a continuation of their last two EPs, Oblivion and Mirrored Orbifolds.
Listen.
Downloadable: Pariahs (mp3)
Oh and you can stream the whole of the They Set Us Fevered Water EP using the widget below.
Streamable: They Set Us Fevered Water (bandcamp)
If you like why not buy it for a mere $2 @ hauntedhorses.bandcamp.com.
Here is a shot of Haunted Horses playing Neumo's in Seattle: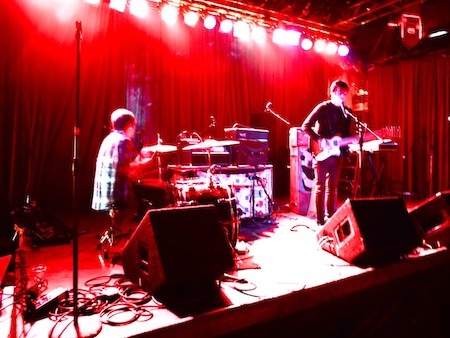 Hopefully, sometime in the not-too-distant future Haunted Horses will travel east and play some shows in the NYC area.
Haunted Horses are on the internet
Haunted Horses are on Bandcamp
Haunted Horses are on Blogger
Haunted Horses are on Facebook
Haunted Horses are on Vimeo
Haunted Horses are on Hype Machine
BONUS: Medusan Sky (mp3)
(Slightly) Related Posts: