music video :: A Place to Bury Strangers > Revenge (Live @ Braund Sound)
To help get you psyched for Friday's A Place To Bury Strangers show at Music Hall of Williamsburg, here is a some live footage of APTBS at Braund Sound.
Watch + Listen.
Streamable: Revenge (Live @ Braund Sound) (youtube)
Also playing on Friday are Cymbals Eat Guitars and GT favs Hunters. You can watch a music video from Cymbals Eat Guitars @ The Barsuk Youtube, and there is some recent footage of Hunters @ The GIMMETINNITUSTUBE.
If you missed it on the GIMME Tumblr, you can check out the Braund Sound session for "You Are The One" by APTBS @ gimmetinnitus.tumblr.com.
Upcoming NYC Show:
A Place To Bury Strangers is on the internet
A Place To Bury Strangers is on Twitter
A Place To Bury Strangers is on Facebook
A Place To Bury Strangers is on etsy
A Place To Bury Strangers is on GIMMETINNITUSTUBE
A Place To Bury Strangers is on elbo.ws
A Place To Bury Strangers is on Hype Machine
A Place To Bury Strangers is on Dead Oceans
A Place To Bury Strangers is on Mute
A Place To Bury Strangers is on Killer Pimp
A Place To Bury Strangers is on Insound
A Place To Bury Strangers is on Amazon MP3
A Place To Bury Strangers is on eMusic
BONUS: You Are The One (mp3)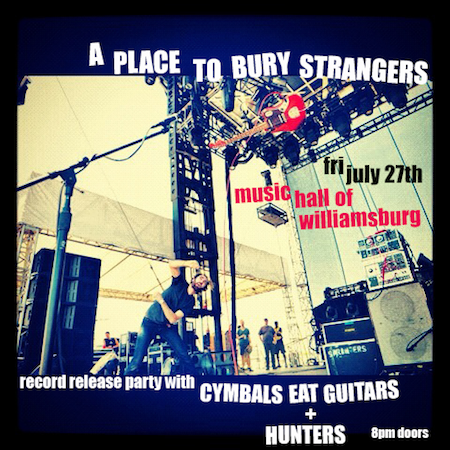 (Slightly) Related Posts: