mp3 :: Parquet Courts > Borrowed Time
NYC's (3/4 transplanted from Texas) Parquet Courts is a band featuring Andrew Savage of Fergus & Geronimo* and Austin Brown of The Keepsies**. Well, earlier this year, Parquet Courts released their debut LP Light Up Gold via the Dull Tools label. Recorded over a few days in a ice-box practice space, Light Up Gold is the type of postpunky indie rock that frankly, I just can't get enough of. This right here is track number two.
Listen.
Downloadable: Borrowed Time (mp3)
You can purchase Light Up Gold in digital form @ dulltools.bandcamp.com or on vinyl @ dulltools.bigcartel.com.
* Make sure you check out Fergus & Geronimo's recent mindfuck, Funky Was the State of Affairs.
** The Keepsies have a new 7″ coming out next month, more on that TK.
Parquet Courts is on the internet
Parquet Courts is on Soundcloud
Parquet Courts is on Hype Machine
Parquet Courts is on Shea Stadium
Parquet Courts is on Dull Tools
Parquet Courts is on eMusic
BONUS:
Other Desert Cities (mp3) by Parquet Courts
Roman Tick (mp3) by Fergus & Geronimo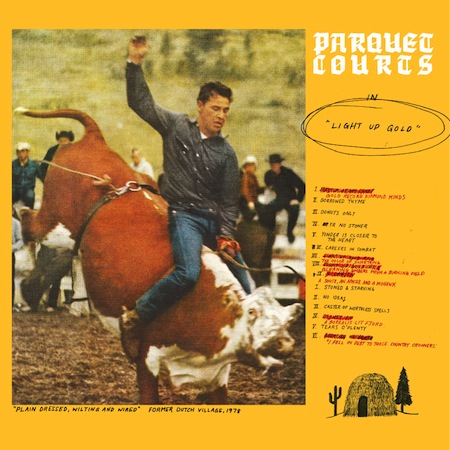 (Slightly) Related Posts: