mp3 :: Black Pus > 1,000 Years
Black Pus is the solo project of Lightning Bolt drummer Brian Chippendale. His new LP, All My Relations is being put out by the mind-expanding Thrill Jockey on March 19th. Chippendale uses drums, vocals, and an oscillator triggered by the kick drum to create his propulsive soundscapes.
Listen.
Downloadable: 1,000 Years (mp3)
You can preorder All My Relations @ thrilljockey.com.
The album art looks like this.
Chippendale has drawn a comic that will accompany All My Relations. The first 100 mailorder customers will receive an 11″ x 11″ hand-made three-color silk screen print. Here is the black and white version of the print.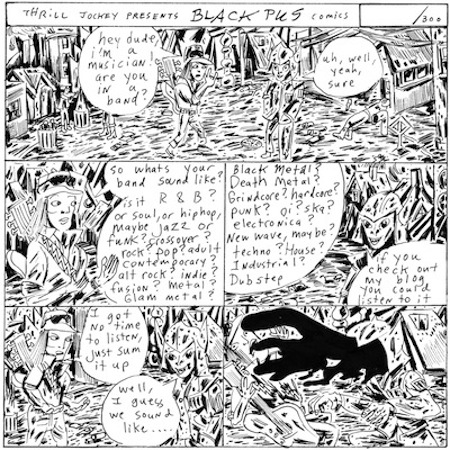 Upcoming NYC Show:
Black Pus is on Blogger
Black Pus is on Bandcamp
Black Pus is on Soundcloud
Black Pus is on Facebook
Black Pus is on Twitter
Black Pus is on Hype Machine
Black Pus is on Free Music Archive
Black Pus is on Thrill Jockey
Black Pus is on Load Records
Black Pus is on Insound
Black Pus is on eMusic
BONUS: HEEBEE GEEBEES (mp3)
You can pay-what-you-want for PUS MORTEM @ blackpus.bandcamp.com.
(Slightly) Related Posts:
(Pretty Much) No Related Posts