audio stream :: Accidental Guest Recordings > Beyond Inversion
Accidental Guest Recordings is getting ready to release Beyond Inversion, which is a benefit compilation with all proceeds going to Rachael's Women Center in Washington, DC. Their mission statement:
To provide homeless and formerly homeless women with opportunities to develop their independence, sense of self and hope by: (1) Providing safety, shelter, food, showers and laundry in a nurturing, homelike environment; (2) Helping women to reach their potential through intensive case management and programs that empower them to take control of their lives and advocate for themselves.

Rachael's also reaches out to individuals living on the streets, enabling and encouraging them to access services and benefits available to people who are homeless.
The compilation features "contemporary noises sprawling across punk and post-punk landscapes" as curated by Sean Gray and Jes Skolnik. Artists on the compilation include:
The compilation will be available late November/early December on cassette and digital formats. And hey, you can totally sample Beyond Inversion using this handy soundcloud widget.
Listen.
Streamable: Beyond Inversion Sampler (soundcloud)
You can preorder Beyond Inversion @ accidentalguest.bigcartel.com. The cassette comes in 5″ box w/ full color 11″x17″ insert, pin, and download code. The silkscreened poster accompanying Beyond Inversion will also be available for purchase, with proceeds also going to Rachael's Women's Center. Preorders are set to ship in late November.
Beyond Inversion is on Tumblr
Accidental Guest Recordings is on the internet
Accidental Guest Recordings is on Tumblr
Accidental Guest Recordings is on Twitter
Accidental Guest Recordings is on Facebook
Accidental Guest Recordings is on Soundcloud
Accidental Guest Recordings is on Bandcamp
Accidental Guest Recordings is on Big Cartel
BONUS: Conquest (mp3) by In School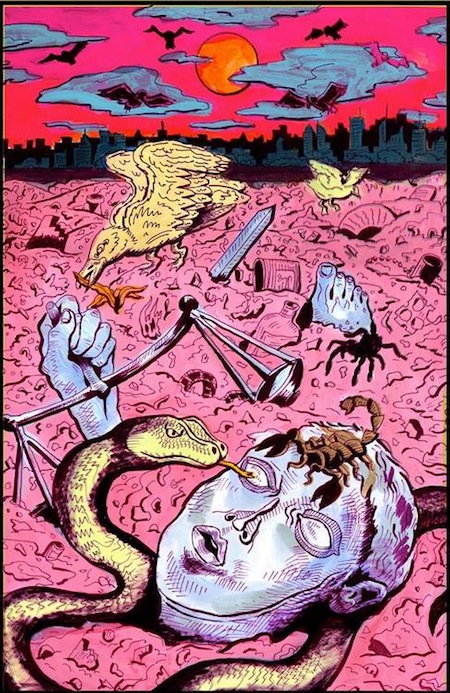 (the mostly finished full color/double sided insert for the comp: leah wishnia)
(Slightly) Related Posts:
(Pretty Much) No Related Posts