mp3 :: Trabajo > Very Religious Family
GT favs Trabajo have a brand new cassette! It is a split with the lo-fi mellow psycher Madrugapha of Buenos Aires and is being released jointly by No Kings and Salvador Records. On the tape, TJ Richards and Yuchen Lin explore some mellower, more ambient vibes, blending samples of traditional music with floaty tripped out keyboard riffs.
Listen.
Downloadable: Very Religious Family (mp3)
Streamable: El Planeta Nubaru by Madrugapha
Streamable: Rotovolquismo (vimeo) by Madrugapha
You can purchase the Trabajo & Madrugapha: Split cassette @ nokingsrecord.co. This is an edition of 100 pro-dubbed, imprinted tapes with risograph art on assorted paper, inspired by bejeweled saints buried in the catacombs of Europe.
And you can pay-what-you-want for Gamelan to the Love God @ trabajo.bandcamp.com.
Trabajo is on Tumblr
Trabajo is on Bandcamp
Trabajo is on Facebook
Trabajo is on Hype Machine
Trabajo is on KimDawn
Trabajo is on No Kings
Trabajo is on Salvador Records
BONUS: The Myth (mp3)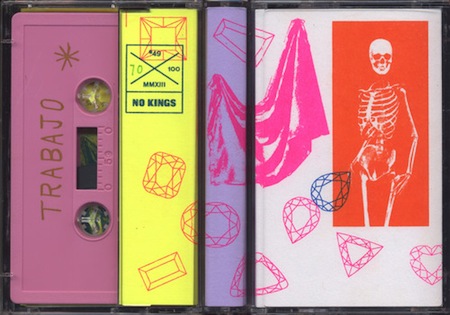 (Slightly) Related Posts:
(Pretty Much) No Related Posts