album stream :: Fond Han / Mattress Financial > Private Split
Early runner up for late night record of the year goes to this new split cassette from Fond Han (Thomas Baumann of Neur and Hot Fang) and Mattress Financial (Sam Rosenberg of Two Inch Astronaut). Released by GT favs, Exploding In Sound Records, the split shows off a more intimate, dreamy, experimental side of these two post-punkers. Stream the whole tape right now or listen late at night (your choice).
Listen (as late as possible plz).
Streamable: Private Split (bandcamp)
You can, and let's face it, you probably should purchase Private Split right now @ the EIS bandcamp.
Do I get bonus points for not using the word "lofi"? I think so.
Upcoming Mattress Financial NYC Show:
Fond Han is on Facebook
Mattress Financial is on Bandcamp
They are both on Exploding In Sound Records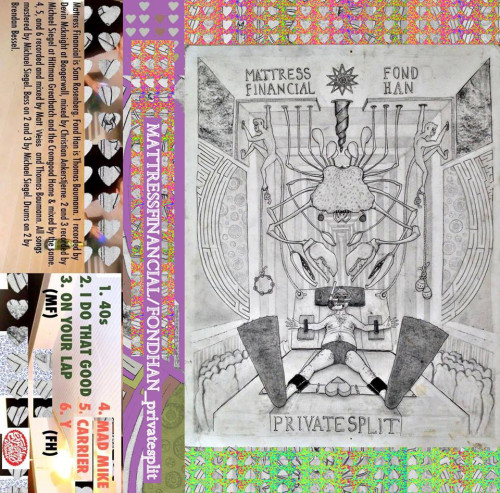 MP3 BONUS:
I Do That Good (mp3) by Mattress Financial
Travelers Club (mp3) by Fond Han
Pay-What-You-Want for the EIS Sampler 2013/2014 @ the EIS bandcamp.
(Slightly) Related Posts: