q and also a :: Birth (Defects)
Baltimore's own Birth (Defects) sent us these answers for this installment of q and also a.


q: What is the last song you (really) heard?
sean: I don't know what you mean by "really" hear a song. The last song I enjoyed is by the best punk band out of the UK right now, Frau – "Punk Is My Boyfriend", also Unholy Two – "Survivor Series", a classic from The Need – "O Sally How's it Feel With a Fake Hand?" and from a project called Karasyozoku – "Strayers Seek Crowd, Even Though They Don't Have The Reason".
rob: I keep Dark Blue's cover of John Cale's "Hungry for Love" on repeat at all times if that's what you mean.


q: What is your most common reaction to hearing your own music?
s: "At least we aren't a Hoax rip off band"
r: "At least we are a Hoax rip-off band."


q: What is your favorite artist/band to see live?
s: Watery Love.
r: I don't have favorites; I love them all equally. OK, maybe Technicolor Teeth a little more than the others.
TECHNICOLOR TEETH / BLOOD POOL from Weird City of Dirt on Vimeo.

q: What is your favorite venue (in NYC, if applicable)?
s: Death By Audio.
r: I don't have enough experience to be an authority on New York City venues, but we're playing The Gutter on August 15, so I'll pick that one.
Upcoming Show Dates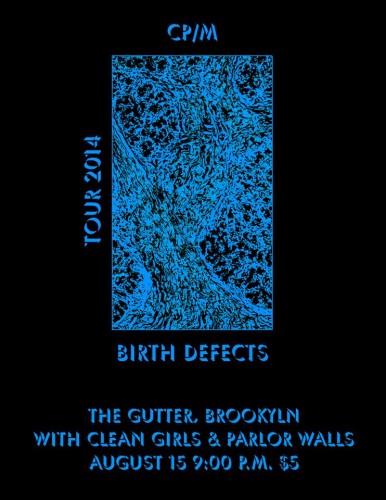 q: What piece(s) of culture are you really really excited about right now?
s: I have no idea what you really mean. I like Anime a lot, and both Rob and I enjoy the Knights of Sidonia series. Hive Bent and us are starting an Anime theme songs touring band. See you in 2017.
r: Bloodborne! and Knights of Sidonia, yes. My kids really like Mario Kart, too.



q: Anything we should know about your latest project (whatever that might be)?
s: This split cassette with CP/M is our first release. It was recorded in 16 hours. It took 7 years to make this release happen.
r: I'm still amazed that cassette tapes have made a comeback.
Listen.
Streamable: Birth (Defects) + CP/M 2014 Tour Split (bandcamp)



Recorded and mixed by Roomrunner's Dan Frome, here is the CP/M side of the cassette.
Streamable: Birth (Defects) + CP/M 2014 Tour Split (bandcamp)



Get the tape by coming to one of the shows listed above. Accidental Guest will be releasing a 7″ and maybe a 12″ by Birth (Defects) later this year. More on that TK.
And make sure you check out the rest of the q and also a series. Ok?
Birth (Defects) are on Birth (Defects)
Birth (Defects) are on Tumblr
Birth (Defects) are on Facebook
Birth (Defects) are on Accidental Guest
BONUS: Demands (2007 Demo) (mp3)
(Slightly) Related Posts:
(Pretty Much) No Related Posts