show :: 10/24/14 @ The Gutter > The Mirror Universe Tapes + GIMME TINNITUS Unofficial CMJ Showcase
CMJ is almost upon us. Too many shows. Not enough time/sleep/etc. Well, here is one show that is not to be missed. Mirror Universe Tapes and GT have put together a dark and poppy unofficial showcase. It happens on Friday, October 24th at The Gutter. Doors are at 7. Show at 8. No badges, but the show only cost $5. Do not miss it.
The Lineup (in no particular order, times announced closer to the show):
Bummer 10/14/14: Semi Femme can't play.
Update 10/16/14: Lia Mice and Curelight Wounds will now be playing!
Just Added!



May 9, 2014
The Gutter
200 North 14th Street
Only $5
No Badges
Doors at 7
Music at 8
FB RSVP: https://www.facebook.com/events/438859979585882/
OMR RSVP: http://www.ohmyrockness.com/shows/224451
Mirror Universe is on the internet
Mirror Universe is on Bandcamp
Mirror Universe is on Facebook
Mirror Universe is on Twitter
Mirror Universe is on Tumblr
Mirror Universe is on Soundcloud
Mirror Universe is on Big Cartel
Mirror Universe is on Spotify
The Gutter is on the internet
The Gutter is on Twitter
The Gutter is on Oh My Rockness
The Gutter is on My Social List
The Gutter is on NY Mag
BONUS:
Day That I Found You (mp3) Dott
Bad Blood (mp3) by The Flag
Eastern State (mp3) by Kindling
We Will Always Be Together (mp3) by Night Powers
Concealed (mp3) by Semi Femme
Silver Sand (mp3) by Curelight Wounds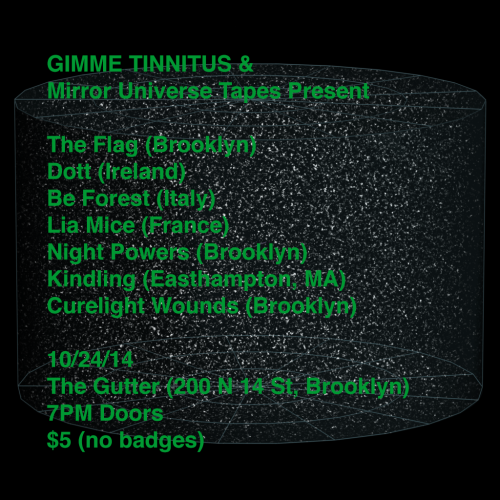 (Slightly) Related Posts:
(Pretty Much) No Related Posts