contest :: The GIMME TINNITUS 5k Twitter Followers Contest Megapost
If you have been reading the GT twitter, you knew this was coming.
It's the GIMME TINNITUS 5k Twitter Followers Contest.
A bunch of awesome/killer/rad labels have contributed a bunch of goodies to our contest jackpot. It is time to share said goodies with you, the GIMME TINNITUS reader/listener. Simply tweet or retweet this post and you are entered. Five winners will be chosen at random, and the jackpot will be divided up between them. The contest runs until December 1, 2014 when the winners will be picked.
What's in it for the winners?
You will get some of the following music in either vinyl, cassette, CD or digital. Plus some additional swag.
Listen.

(pink swirl version of the LP!!)
And maybe more TK.
Thank you to everyone who has helped me with this blog through the years, bands, venues, fans, even PR ppl. I love you.
And even if you don't enter, you can grab this little mini compilation of some of the music featured in this post all zipped up @ https://www.mediafire.com/?mbh4t7qlwbb4l41/a> or dl individual tracks below.
"Everybody Wins" MP3 BONUS:
The Stale Breath of 1000 Lucrative Club Bangers (mp3) by Big Pauper
I Taught You (mp3) by Lost Film
Stop Having Fun (mp3) by Wimps
Dance Punk Revival School For Kids (mp3) by Grass is Green
Falling Down The Stairs (mp3) by Blank Realm
Sloppy Joes (mp3) by Vomitface
Harold Camping (mp3) by Le Rug
Gave Away & Broke (mp3) by Yalls
Portion Control (mp3) by Clean Girls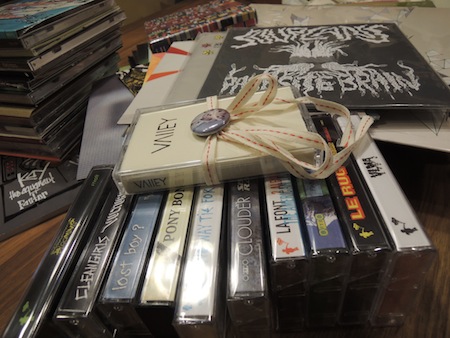 (Slightly) Related Posts:
(Pretty Much) No Related Posts