stream these :: Palm + Bruce Haack + Best Behavior + Biggwigg + OH WELL, GOODBYE + Hey Colossus + Longings + Yay High + The Channels + Spectral Park + The Furr
So, here is this week's round up of all the necessary audio/video streams. I'm pretty sure that I am leaving something out, so leave a comment and let me know what's missing. Or not.

Listen.

Preorder are up for the new PALM! Get it, but first maybe listen to Crank. This is a joint release from Inflated and EIS.




Telephone Explosion is releasing Bruce Haack's Haackula on vinyl! Co-produced by Russell Simmons, preorder it now. Listen to Party Machine.




Money Fire Recs just released Good Luck Bad Karma by Best Behavior. Come to the record release at Union Pool tomorrow. Buy the record here (or at the show) but first stream it below.




Straight outta Fayetteville, Arkansas, it's biggwigg who join bbigpigg in the punk rock extra letters club. Pay what you want for the People Watch single. Stream up the title track.




Dig this track by Liverpudlians OH WELL, GOODBYE.




And this new track from Hey Colossus kills. Coming soon from Rocket Recs.
(as seen)



The FRAMEWORK Label is putting out the new Longings (Mems Ampere + Kindling). No preorder yet but buy it here, it comes out 9/10. Stream some killer Western MA postpunk in the form of Tarnished. In the meantime pay what you want for the demo on bandcamp.
And make sure you check out the new Dicks cover by Kindling, ok?



There is a label called Toilet Fingers. Yay High is a band on that label. The track is called Sour Milk. Buy the EP. Rock.




Alyse from EULA/Parlor Walls turned me on to The Channels. They just put out Disposable Camera which is amazing. Can't wait to see them live. Listen to Pill now tho.




Crash Symbols just dropped a split from Spectral Park and The Furr. Sample it below then buy it, duh.




AND I didn't even get to the Mail The Horse Daytrotter sesh, the new Potty Mouth, that Deaf Wish album, those unreleased nirvana demos, Ratkinger Sporting Life's new joint, the fact that the Christian Fitness album is out, or NEW TRUSHES!


AND remember there's always lots to stream at the GIMME TINNITUS Soundcloud or the GT Youtubes, and also at the GT Tumblr too.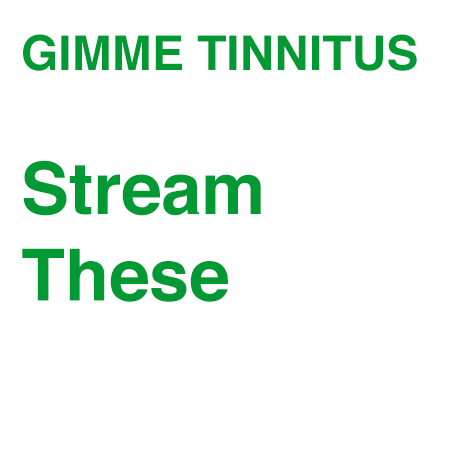 (Slightly) Related Posts: