stream these :: Patio + Nail Polish + The Gun Hoes + GRIZZLOR + Mombutt + HINTS + Busdriver + Ben Katzman + Telephone Tag


So, here is a round up of all the necessary audio/video streams from the past week or so. I'm pretty sure that I am leaving something out, so leave a comment and let me know what's missing. Or not.

Listen.

Have you grabbed the debut Patio single yet? Don't not get it, silly. (Pay What You Want)





The debut cassette by Seattle's own Nail Polish is coming out October 30th via the good folks at Help Yourself Records. Listen to Neighborhood Watch. (Purchase)





The Gun Hoes of Miami are streaming their new LP, Sex and Violins, which comes out later this month via Lolipop Records. (Purchase sometime soon)





GRIZZLOR has released CYCLOPTIC! 7 rippers in 9 minutes and 47 seconds. You do the math. This is SUNDAYS ARE STUPID. (Purchase)
I think we can all agree that Mombutt is the great band name that ever was. This is Need Me. (Pay What You Want for lil demo, unfortunately as of this posting the Mombutt "Suck My Ass" tshirts are sold out.)





Post-Haunted Horses noisepunk proj HINTS has an official music video for I THINK, off the new EP entitled The Way To Function. (Purchase)





Busdriver is back with the best anti-cop song in ages. Here is Ministry Of The Torture Couch feat. Hemlock Ernst prod. by Elos. (Purchase)
Ben Katzman dropped a slab of hard rockin' hard rock called Venus In Pisces. (Purchase)
Denver lofi lovers, Telephone Tag, have put out Cedar House via First Base Tapes. This is Ease. (Pay What You Want)





And I have not even mentioned:



AND remember there's always lots to stream at the GIMME TINNITUS Soundcloud or the GT Youtubes, and also at the GT Tumblr too.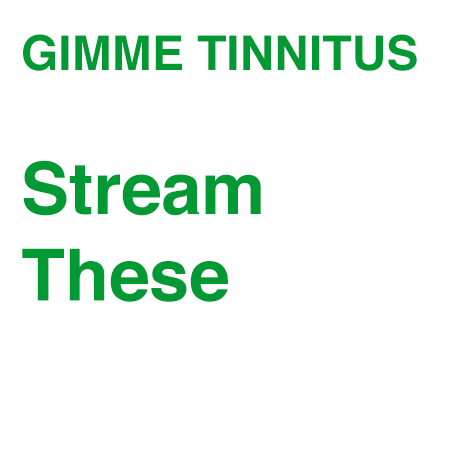 And finally, oh my gawd, no matter what do NOT click THIS!
(Slightly) Related Posts: