stream these :: The Coathangers + Le Rug + Polyon + Bedroom Eyes + The World's Greatest Detective + Sodium Beast + Very Fresh + Parlor Walls


So, here is a round up of all the necessary audio/video streams from the past week or so. I'm pretty sure that I am leaving something out, so leave a comment and let me know what's missing. Or not.

Listen.

GT favs, The Coathangers have a new video for their song, Watch Your Back. (Buy Merch)





This is 1779 off of GAME OVER by Le Rug. (Pre-order a copy of this 44 track long player)





Hey, Polyon (of DC) and Bedroom Eyes (of Boston) are on tour together. Both have new recordings and you can see them THIS SUNDAY AT SHEA!
Polyon's new EP is called Blue. (Purchase it now… or buy it from the band at the merch table, ok?)



And here is the latest from Bedroom Eyes.





Remember Mayor Creep? No there is no Mayor Creep reunion, but there are two post-Mayor Creep streamable's this week. Alex has released I Love You, Rat Dad by The World's Greatest Detective. This is the Quitting Song. It is not a quitting song. (Purchase)



And Nick is playing with current and former members of Shark? in Sodium Beast. This is Creep Sale!





Oh and it was a good week for Gravesend Studios recordings…


Cindy Lou Gooden's Very Fresh has a new single, Clean Touch, which comes out today! The song was recorded by Julian Fader and Carlos Hernandez at Gravesend Recordings. (Purchase 7″)



Also recorded at Gravesend Studios by Julian and Carlos is the new Parlor Walls. (Purchase Link TK)





And I have not even mentioned:



AND remember there's always lots to stream at the GIMME TINNITUS Soundcloud or the GT Youtubes, and also at the GT Tumblr too.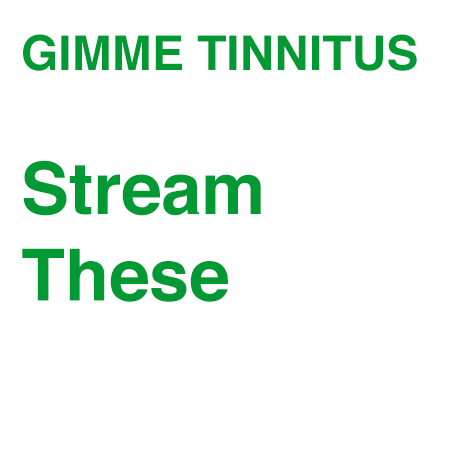 (Slightly) Related Posts: