stream these :: PINK WASH + Wimps + Le Rug + B Boys + Visitors + Patio + Krimewatch + SAVAK + Nothing


So, here is a round up of all the necessary audio/video streams from the past week or so. I'm pretty sure that I am leaving something out, so leave a comment and let me know what's missing. Or not.

Listen.

Philly prog punks PINKWASH are sharing a youtube stream of LONGER NOW off their debut album COLLECTIVE SIGH out May 13th via Don Giovanni Records. (preorder)





Wimps offer a "a candid glimpse into Dave Ramm's crazed psyche" in the music video to Couches. (purchase)



SEE WIMPS LIVE:
03/25 Seattle, WA @ Black Lodge
03/27 Boise, ID @ Treefort Music Festival
04/01 Brooklyn, NY @ Silent Barn
04/02 New York, NY @ Berlin
04/03 Cambridge, MA @ Out of the Blue Too Gallery
04/04 Philadelphia, PA @ The Nest
04/05 Baltimore, MD @ Windup Space
04/06 Harrisburg, PA @ The MakeSpace
04/07 Toronto, ONT @ Silver Dollar Room
04/08 Detroit, MI @ UFO Factory
04/09 Chicago, IL @ Reed's Local
04/24 Seattle, WA @ Chop Suey
05/29 George, WA @ Sasquatch Music Festival
(as seen)




You thought GAME OVER was the final Le Rug release? You were wrong. Ray Weiss and Friends recently released the Ersatz EP. (purchase)





B Boys' new EP No Worry No Mind is out. Praise Jah. Watch their music video for Get A Grip. (purchase)





Telephone Explosion is reissuing the complete discography of Edinburgh's post punks VISITORS. Poet's End is a compilation which includes all previously released VISITORS singles and 4 previously unreleased tracks. It is set to be released on May 8th. They are not to be confused with The Visitors. Listen to Our Glass. (preorder)
(as seen)




NYC's Patio is getting ready to release their killer debut EP, Luxury. Listen to Arbitrary Numbers. (preorder)





NYCHC outfit Krimewatch dropped their demo recordings. These tracks slay! (purchase)





Unblinking Ear Recs is offering up a pay what you want track from SAVAK (mems Obits, The Make Up/Pharmicists, Holy Fuck, The Cops, etc.) as part of their Office Supplies series. The band will release their debut album, Best of Luck in Future Endeavors, on May 27 via Comedy Minus One. (preorder)
(artwork: ric froberg)




Nothing get messy in this music video for Vertigo Flowers. (purchase)
And I didn't even mention…


AND remember there's always lots to stream at the GIMME TINNITUS Soundcloud or the GT Youtubes, and also at the GT Tumblr too.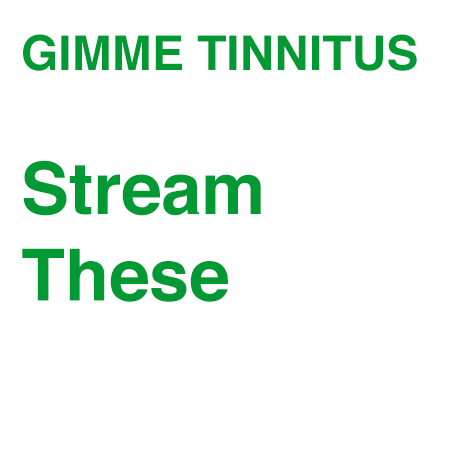 (Slightly) Related Posts: