q and also a :: Nail Polish


Nic and Jason of Nail Polish sent us these answers to our questions in this next installment of q and also a.


q: What is the last song you (really) heard?
nic: Siege – Starvation. I'm trying to quit smoking cigarettes and it sucks. I guess this song has kind of been my mantra over the course of the last month. Siege only put out like 10 minutes of music and it's all pretty fucking brutal and fun. Everything they play sounds like the wheels could come flying off at any minute, which is cool and relatable.



jason: Dead Kennedys – A Child and His Lawnmower. The energy and bass tone on this track is perfect. It pops into my head at least once a week.




q: What is the first album you remember purchasing?
n: I didn't buy any music for a long time because I grew up with my grandpa and he had a whole bunch of tapes and cd's that I would sit and listen to on headphones by myself. I think my earliest musical memory is listening to a bee gees cassette tape and being like, "damn."


j: My parents were hardcore born-again christians when I was younger. The one other little-shit child at church told me about this Christian book store that shared space with a New Age shop which sold used tapes and CDs that were mixed in right next to the Jesus stuff. I picked out In Utero after borrowing it from said friend.




q: Is there an album you wished you knew about when you were younger?
n: Idk if it was Julia's idea…but I think Chastity Belt put it best when they named their first record No Regerts.



j: Ahmad Jamal – The Legendary Okeh and Epic Recordings.




q: What is the last album that you purchased?
n: We played a show with this band Basement Family the other night. They're from Chicago. I bought their record. They rule.



j: The Muppet Movie – Original Soundtrack Recording in mint condition with the poster still inside.



q: What is your favorite memory of experiencing music in a live setting?
n: When I was 13 my mom took me to a Tool concert. It was the first show I ever went to and I remember watching this dude smoke crystal meth out of a light bulb a couple rows in front of us. That was pretty cool.



j: In my senior year of high school I saw the Pixies play the Bardavon Opera House in Poughkeepsie. It's super old and pretty – basically the Carnegie Hall of Upstate. I smoked a joint inside with some people twice my age. Drugs. Cool.




q: What is your favorite artist/band to listen to recorded (i.e. not live)?
n: Whoa what a tricky question. I like Dean Martin a lot even though he was probably a complete piece of shit. That's Amore is a fantastic song.



j: Brian Wilson / The Beach Boys, specifically Smiley Smile. My uncle who lives in San Diego introduced me to it the first time I visited the West Coast when I was 12yrs old.




q: What piece(s) of culture are you really really excited about right now?
n: I remember reading somewhere that vinyl sales are the highest they've been in like 30 years. That's pretty cool right? I've spoken with a lot of people lately who are like "Spotify is destroying everything!!!" Whatever. Music is great. You should listen to it however you want. Some people are gonna buy stuff…but even more people are probably not gonna buy stuff. Maybe that fraction will even out over time. Maybe not.


n: It's a bummer to see a slew of north Brookyln's venues that I've been going to for almost a decade closing this year, but I'm really eager to see the next wave. There have been more house and rooftop shows lately.



q: Anything we should know about your latest project (whatever that might be)?
j: There are about 1,000 kids and adult vintage T-shirts in storage for my latest Etsy store but I've been too busy with Nail Polish to get it together.


n: We're about to hit the road and head out to the Midwest next week. I'm really excited about it. This is our first tour and the Midwest is awesome. We have a record coming out later this month too. Maybe you'll finish reading this q and also a and be like, "I would like to buy that record!"


Listen to Stop Dreaming:



Preorder is available @ http://www.illuminastyrecords.com/.


Listen to Stay Gone:



Upcoming Shows:
Cincinatti July 11 (TONIGHT!) @ The Comet
Detroit July 12 @ UFO Factory
Brooklyn July 13 @ Good Room
NYC July 24 @ Berlin


Nail Polish is on the internet
Nail Polish is on Bandcamp
Nail Polish is on Facebook
Nail Polish is on Soundcloud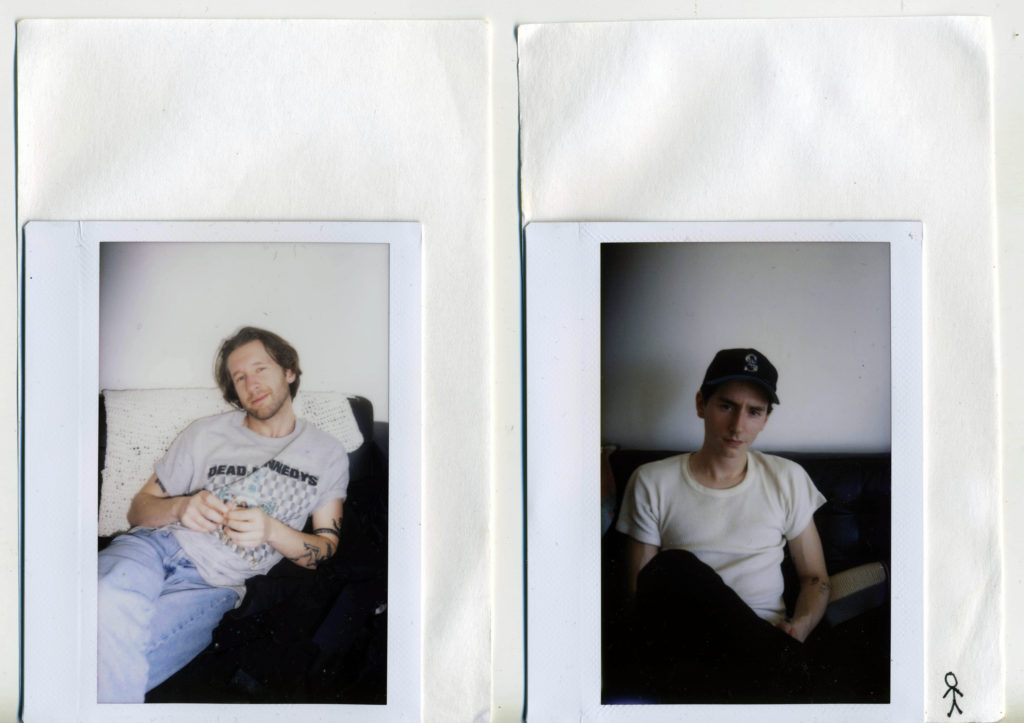 (Slightly) Related Posts:
(Pretty Much) No Related Posts