q and also a :: Alien Trilogy
Alien Trilogy (aka Chris, Danny and Eric) sent us these answers to our questions in this next installment of q and also a.


q: What is the last song you (really) heard?
Chris: This song by the Serbian goth band Trivalia. Perfect chorus.
And this song by Detroit sax player Sam Sanders. Stumbled on his stuff and it really hit me. When the big sax lick kicks in I wanna cry.


Danny: "Rip & Tear" from 2016's DOOM soundtrack.  It's like listening to Fear Factory without all of the subtlety.


Eric: Container's "Calibrate". This track demands attention. It starts out with a bass kick and a snare and then gradually tears itself apart in the best way possible.





q: What is the first album you remember purchasing?
Chris: First album I purchased with my own money was One Hot Minute by Red Hot Chili Peppers. It may have also been White Zombie's La Sexorcisto Devil Music Volume 1, an album I still worship. When I bought it at the Altamonte Mall my father read the back of the cd and said "Welcome to Planet Motherfucker?", to which I replied "Purple Haze Dad?"



Danny: Insomniac by Green Day, which is their finest work, including all of the pre-Dookie stuff.  Fight me.



Eric: Less Than Jake's "Hello Rockview". I first heard Less Than Jake from the Playstation game Street SK8ER. No regrets.





q: Is there an album you wished you knew about when you were younger?
Chris: I wish I heard Einstürzende Neubauten's Drawings of Patient O.T. when I was like 10. Would have saved me a lot of time. 



Danny: Bee Thousand.  I really could have used a ten year head start on the Guided by Voices catalog.



Eric: Techno Animal's (The Bug and Justin Broadrick) 2001 release The Brotherhood of the Bomb. I wish I was blasting this every so often in between Every Time I Die and Poison The Well when I was younger. I missed it at the time, but I always had a craving for distorted and loud hip-hop. That craving would also be majorly satisfied by Death Grips.





q: What is the last album that you purchased?
Chris: I think it was The Nomads' Where the Wolf Bane Blooms or Amore Per Tutti by my friend Simon Hanes' band Tredici Bacci 



Danny: Born to be Wild in the U.S.A. 2000 by Acid Mother's Temple.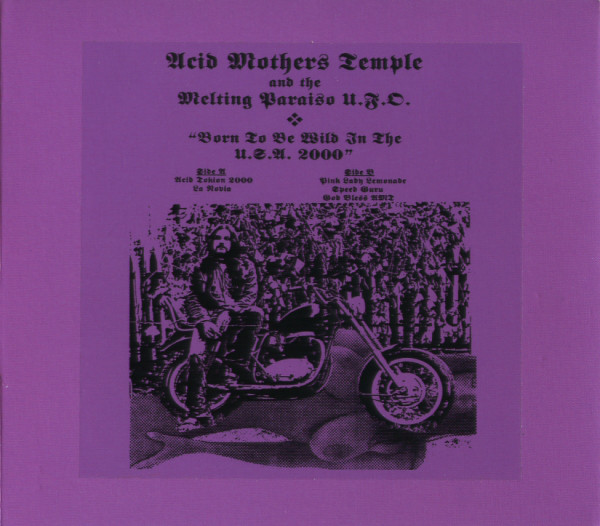 Eric: Secret Rotation by Via App





q: What is your favorite memory of experiencing music in a live setting?
Chris: Seeing The Dickies with my girlfriend Sarah a couple years ago. It was wonderful. Right around the holidays. Perfect. A close second is the first time I saw Guitar Wolf. I was 17 years old and drove from Florida to Memphis. The opener featured Jack Oblivion and Jeffrey Evans. Life changing. 



Danny: Seeing Lightning Bolt at Death by Audio's final show.  It's the only time I could describe a Lightning Bolt set as "bittersweet."  It was a band, a venue, and a crowd expressing a set of emotions that words wouldn't do justice.  A perfect goodbye to the venue, and a powerful example of how live music can make you feel.



Eric: My number one was seeing The Blood Brothers, These Arms Are Snakes and Dance Disaster Movement at the Social in Orlando. I love The Blood Brothers, but the real winner of that night for me was Dance Disaster Movement. At that point I'd never heard anything like them. Blown out keyboard grooves, a drummer who played like a cut up "amen break" and some serious dance moves. They're the most direct reason why I started playing keyboard.





q: What should we know about Rat Damage?
Chris: Rat Damage is the summation of a lifetime of nerdery, movie obsession, music obsession and basically plunging the depths of the runoff of pop culture and genre crap. It's a perfect expression of all three of our personalities and where they meet and what happens when you play music with people for a long time. We have been friends and making music together for many years now and it's so nice to see what came out of it.  We all went to film school together and you can hear it. We also are best friends and you can hear that too. 


Danny: No damage was done to any rats in the making of Rat Damage.
You can get a lot of stupid sounds out of $20 Danelectro pedals if you hit them hard enough.
You should know that you're not too good for cheap jokes, cheap guitars, and cheap thrills.


Eric: It's a journey deeper into the cyberpunk future-present we're all currently living in, except we try to make it fun. We've been playing together for many years in Alien Trilogy and in other bands, so I think Rat Damage sums up our friendship, where we're all at musically and is the best showcase of what Alien Trilogy sounds like right now. 


Listen.
Pay what you want for the digital of Rat Damage @ alientrilogy.bandcamp.com.
Order the cassette from Kitty Play @ kittyplayrecords.bigcartel.com.
Alien Trilogy are playing at Saint Vitus TONIGHT! (last minute addition) and the Abasement series at Max Fish on March 13th. They will also be featured on The Special Without Brett Davis on March 8th. See them live!


Alien Trilogy is on Bandcamp
Alien Trilogy is on Facebook
Alien Trilogy is on Soundcloud
Alien Trilogy is on Kitty Play Records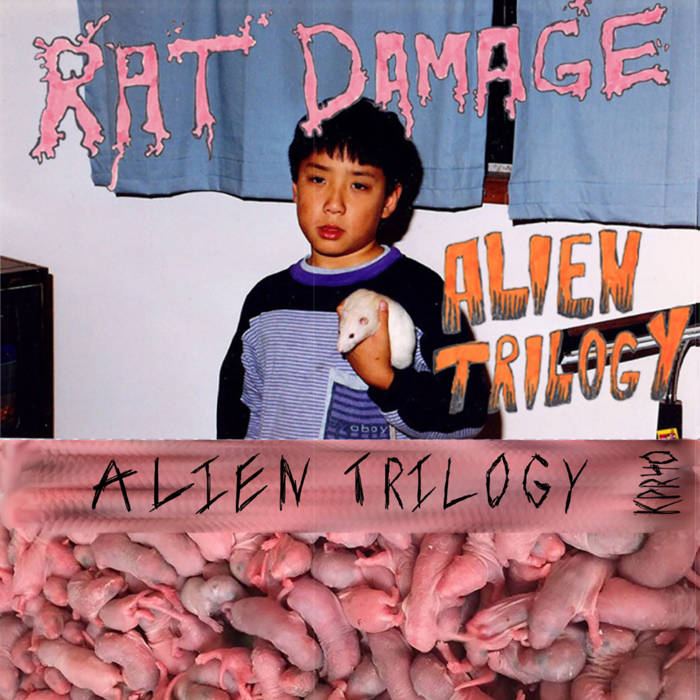 (Slightly) Related Posts: