show :: 6/17/17 @ Moffat Heaven > Black Beach ~ Nice Guys ~ Fat Heaven ~ Silent Age ~ Bees


Join us on June 17th at Moffat Heaven for a killer house show. It's the Brooklyn section of the Black Beach/Nice Guys tour supporting their new split. Their noisy buds from Philly, Ursula, are coming up. Local residents Fat Heaven will play AND this show will feature the return of Bees (a band featuring members of THICK, Nonsense and Clean Girls). 6/17/17 come through!
UPDATE: Ursula had to drop but now we got Silent Age (from Chi-town)!
GIMME TINNITUS Presents





Nice Guys (MA)





UPDATE: Stream a couple tracks from the new Black Beach/Nice Guys split!!





Fat Heaven (duhh)





Ursula (PA) (bummer)





Silent Age (IL) (woo!)





Bees (mems Nonsense, THICK, Clean Girls)
ain't no Bees songs streaming on the internet
But there is this…


6/17 @ Moffat Heaven
Ask a punk (or a pom I guess idk)
All ages
8 pm
$8


FB RVSP: https://www.facebook.com/events/818178301668554/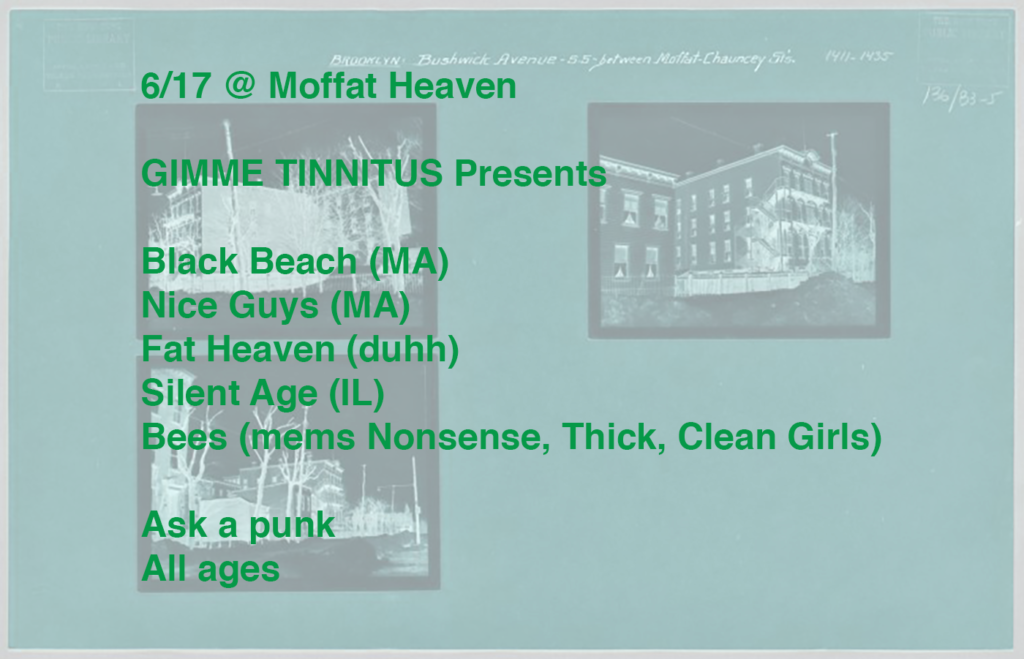 (Slightly) Related Posts: