q and also a :: XETAS


Austin, TX's own XETAS sent us these answers to our questions in this next installment of q and also a.


q: What is the last song you (really) heard?
david: Gummy by Brockhampton off Saturation II



kana: I also like Saturation II. All the songs.





q: What is the first album you remember purchasing?



j: And Justice for All – Metallica
[no smashmouth embed, sorry kana]
ed. note: you can google Smashmouth if you really want to listen to Smashmouth, ok?




q: Is there an album you wished you knew about when you were younger?
d: Dead Moon – In the Graveyard



j: Fear of a Black Planet by Public Enemy



k: Minutemen – Double Nickels on the Dime





q: What is the last album that you purchased?


d: Some goofy Halloween record, and the Pretty Shitty demo tape



j: a Supertramp – Breakfast in America tape.


k: I bought a couple records off my friend Joe, a Lee Perry LP, a Bollywood Slide Guitar compilation, an Echo and the Bunnymen LP.











q: What is the best thing about your homebase, Austin, TX? And the worst?
d: The best thing is the creative community, and my least favorite thing are the police and how they handle the homeless and addict population downtown.


j: The worst is the way the city treats musicians as a disposable asset, and maybe the oversaturation of bands, but that's also a good thing, cause having good bands around us makes us step up our game.


k: I like the community and the weather, I don't like the way lower class and middle class communities are being stifled and pushed out. I think the local government could be more proactive and work with musicians instead of using them as political props.




q: What should we know about The Tower?
d: It's for sale now! It speaks for itself. It's the best thing we've done so far.


j: It's the first record I'm on!


k: I did the tarot card artwork!


Listen.





Purchase The Tower at xetas12XU.bandcamp.com


XETAS are coming to the Northeast!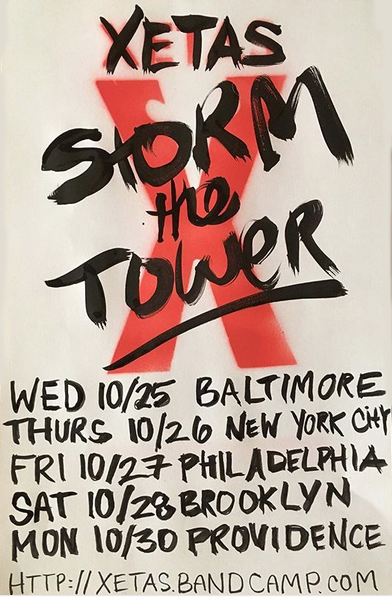 XETAS are on Bandcamp
XETAS are on Facebook
XETAS are on Twitter
XETAS are on Tumblr
XETAS are on 12xu



(Slightly) Related Posts:
(Pretty Much) No Related Posts