q and also a :: Preening


Alejandra Alcala, Sam Lefebvre and Max Nordile of Oakland's own Preening sent us these answers to our questions in this next q and also a.



q: What is the last song you (really) heard?

Alejandra Alcala: St. James Infirmiry by Cab Calloway. It was in an old Betty Boop cartoon I watched recently. Incredibly emotive vocals- compelling stuff!



Sam Lefebvre: I'm listening to "My Time" by Big Youth, loving the kinetic organ and the lilting, uplifting chorus about his "right to live like any other man."



Max Nordile: Buck Owens (with Don Rich)- Above and Beyond. Crystalline harmonies, the sound of two speed freak best friends soul's shaking hands.





q: What is the first album you remember purchasing for yourself?

AA: Cha Cha Slide by DJ Casper. 6th grade, what a year…





SL: With the help of my mom, I remember getting a hold of Sheryl Crow's The Globe Sessions and The Specials' eponymous debut. Her friend was a friend of The Specials, so we went to see them play in Ventura, but the gig went past bedtime on a weeknight, so we had to leave. My next gig was Sheryl Crow. Both discs and concerts left early, strong impressions of fandom.



MN: Cheshire Cat is the debut studio album by American rock band Blink-182. Recorded at Westbeach Recorders in Los Angeles and produced by Otis Barthoulameu, the album was released through local independent record label Cargo Music on February 17, 1995. The trio, composed of guitarist Tom DeLonge, bassist Mark Hoppus, and drummer Scott Raynor, formed in 1992 and recorded three demos that impressed the San Diego-based Cargo. In addition, their reputation as an irreverent local live act at venues such as SOMA alerted the label, which was trying to expand into different genres.





q: Is there an album you wished you knew about when you were younger?

AA: Probably anything by David Bowie. Was very late to the game on that one, think I would've appreciated him in my tweens.



SL: Well, there's a lot. I don't think I was particularly narrow-minded when I got into indie-rock and punk, at least compared to other tweens, but I wish it hadn't taken me until late in my teens to really begin engaging with reggae and rap, which lately account for much of my most stirring listening experiences. Certain discoveries, like no wave or Pere Ubu, came at just the right time, while my infatuations with things like power-pop, for instance, in hindsight seem pretty misguided and overdone.



MN: Auchmithie Forever by Scrotum Poles would have been poppy enough for me to dig deeply into in my teen age, and weird enough to pique an interest in a greater UK DIY context, leading to more varied listening experiences than the ones I allowed myself to be exposed to.





q: What is your favorite memory of a live music experience?

AA: I'd say my first time going to a concert, which was when my parents took me and my siblings to see The B-52's and The Pretenders. I was 9. A pretty solid bill for an introductory experience!



SL: I once watched Pauline Oliveros and several collaborators wander around the old home of the Berkeley Art Museum, an imposing, brutalist hull with cantilevered concrete decks. They were holding instruments, but playing them very timidly, mostly listening. After an hour or so, they all reconvened in the center of the room, and Oliveros posed a question, "Are you projecting, or are you reflecting?"



MN: SAD/Rosebud/Painting With Statue/SPF at Dildo Factory in south Berkeley, Saturday Feb 3 2018. Warehouse gig with experienced players in fairly new bands playing experimental music for a friendly audience.





q: What is the last album that you purchased?

AA: Actually paid money for would be Spellling's Pantheon of Me. Amazing local musician with a beautiful voice and a captivating stage presence. Highly recommended!



SL: Video Duct's bonkers Small Pets (and Kitchenettes), which sounds estranged from any scene in a lovely way, and Pursuit of Happyness by HD of Bearfaced, a North Oakland rapper whose early 2010's output is really staggeringly good.






MN: Aggressive Advertising by Pill "wanna kiss your face/ but i have too many pre-existing/ contractual obligations"





q: What is the best and worst thing about being a band in Oakland, CA?

AA: Best thing would be how supportive everyone is. We've been through a lot together as a community and it's made me extremely appreciative to be involved in the music scene in Oakland. No complaints!


SL: Best: Dodging potholes on Union Street while I bike to rehearsal, where we play dice and frisbee in the hallway; delivering flyers to friends' doorsteps; making shirts at friends' big beautiful warehouses; playing drums in kitchens, head inches from a tepid tofu scramble on the stove; blasting mobb music on the chintzy stereo of a borrowed minivan outside the stunt-booked gig. I feel too fortunate to play in a band in Oakland to complain about anything without more prodding.


MN: see my bandmates above responses, i agree




q: What should we know about the Greasetrap Frisbee 7″?

AA: Should not actually be used as a frisbee. Although it'd be kind of sick if you did.
SL: "Associated Press," like "Reuters" by Wire, imagines the end of media, specifically digital media, in the wake of some catastrophic, internet-destroying event such as an extreme solar flare. Deadline, blackout. The snare is on the 1 and the 3. "PO Box" started as a paean to my longtime PO Box in Berkeley, which has the old brass, masonic-looking plates, and then morphed into something else. "Greasetrap Frisbee" is a remix of odds-and-ends from our recording session outside of Olympia, in a garage off of a dirt road in Shelton. The drumming on "Poison" is inspired by a maybe-faulty memory of the drummer in Shovels. The drumming on "Face/On" is inspired by Palmolive.
MN: "Greasetrap Frisbee" is the name of the genre of music Preening play, after a slimy and aromatic incident in a Missoula, Montana co-op parking lot that involved an errant throw of our official band disc.
ᐧ

Listen.



Purchase. evernever-records.bandcamp.com/album/greasetrap-frisbee


Preening is on Bandcamp
Preening is on Ever / Never Records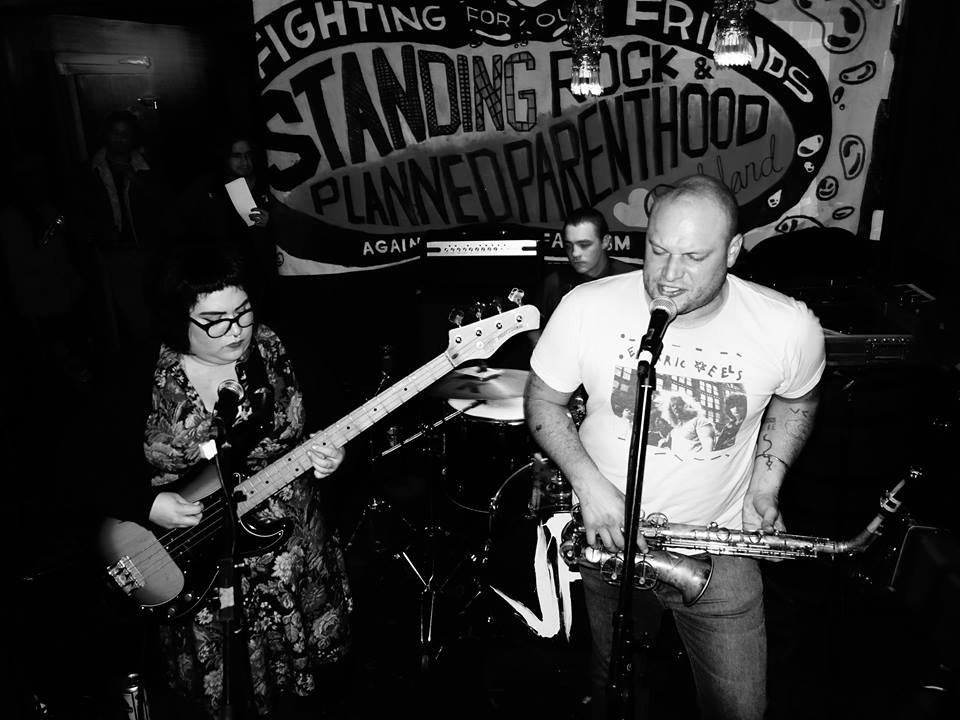 (Slightly) Related Posts:
(Pretty Much) No Related Posts