q and also a :: Big Bliss


Tim Race from Brooklyn's own Big Bliss sent us these answers to our questions in this next installment of q and also a.


q: What is the last song you (really) heard?

a: There's a few… Protomartyr's "My Children" – man what a guitar riff. "Return" by Eno + Hyde is one of the most beautiful songs I've heard in a long time. And "Death of the Party" by Bob Pollard + Tommy Keene – just a stunning team up.











q: What is the first album you remember purchasing?

a: The first album I actually remember purchasing was Soul Asylum's Grave Dancer's Union. I was really young and for some reason was drawn to sappy alt-rock. Also, I thought the butts on the cover were funny. Before that, my first favorite single was R.E.M.'s "Losing My Religion." My brother had taught me how to tape songs off the radio onto cassette while they were broadcast, so somewhere in the world there's a cassette of that song on loop, probably with the first ten seconds cut off each time the song plays.








q: What is the last album that you purchased?

a: The last album I purchased was from my buds Peel Dream Magazine at their release show. They just released it on Slumberland and I really love it. RIYL Stereolab, The Clientele.





q: What is your (2nd) favorite memory of experiencing music in a live setting?

a: I believe I've tackled this one with you before, which was an all female high school band playing Pixies "Gigantic" to an audience of uptight suburban parents. Amazing. A close second would have to be Lightning Bolt at Southgate House in Cincinnati, OH around 2007. My college roommate Alex was pressed so far up front he was leaning on Brian Chippendale's drumset, and the vibration from one of the cymbals rubbing against Alex's arm caused a serious cut. Aside from that the most serious injury we all experienced was hearing loss for the next three days. Actual nauseating, disorienting hearing loss. This was before I wore earplugs to everything. Yikes.








q: What are the best and worst things about being a musician in 2018?

a: I detest the word "buzz," which could be loosely translated to simply "good" with the suggestion of lack of durability. It sort of makes sense how that happens, bands come and go I mean – there's so much noise to cut through, we're being inundated with new content and "premieres" etc on a daily basis, many of which are really just designed to pool the traffic to some of these sites and actually bear little weight in an artist's career. How could anyone expect bands to last in that climate? On the flip side, I think the march towards democratization in music is ultimately a good one, and I do believe that being a small part of a massive community helps keep one energized and inspired. I feel really lucky to be surrounded by so many bands and artists I admire.




q: What piece(s) of culture are you really really excited about right now (if any)?

a: Well, it's been a really tough couple of weeks on the national scale. I mean acutely painful vs the slow bone grind that began in 2016. Looking forward to voting them out. Also, moth memes. (the "there us a light that never goes out" meme in particular)





q: What should we know about your new LP, At Middle Distance?

a: From a lyrical standpoint it's a deeply personal record, while the tunes themselves we typically wrote together. It centers around issues of identity, loss, anxiety, and self criticism, all of which I hope can culminate to reach more universal themes. Our generation, like every one before it, faces unique challenges with real lasting impact – I'm hoping to address some of that through my personal lens. We can only seek so much affirmation on the internet, or fill so many crappy "jobs" to live in a gentrified city, or witness so much grotesque near-daily violence on TV before our sense of ourselves starts to erode, so on this record I'm attempting to examine the wreckage.
Listen.



You can pre-order At Middle Distance @ http://bigblissesr.bandcamp.com/album/at-middle-distance which releases on October 19th.


See Big Bliss Live!


And read the Big Bliss q and also a from 2016.


Big Bliss is on Bandcamp
Big Bliss is on Facebook
Big Bliss is on Twitter
Big Bliss is on Exit Stencil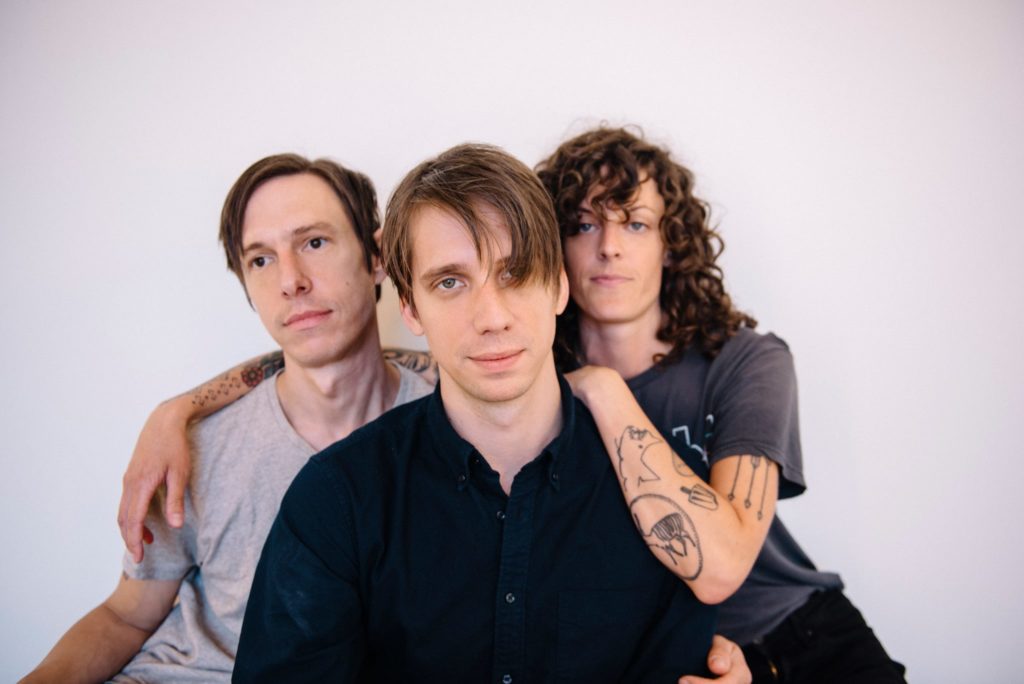 (Slightly) Related Posts: