q and also a :: Spray Paint and The Rebel


Corey from Austin's own Spray Paint answered our questions in this next installment of q and also a.
Spray Paint is getting ready to release a spontaneous collab LP they recorded with The Rebel (Ben Wallers of Country Teasers solo proj). The LP is called Charles' and Roy's Purple Wang and it is set to be released on 11/16/18 via Ever/Never.
Here is the q and also a.


q: What is the last song you (really) heard?

a: Five minutes ago I listened to "The Well Tuned Marimba" by Catherine Christer Hennix, and that was hitting the spot.






q: What is the first album you remember purchasing?

a: My parents owned an independent record store in Indiana when I was growing up so I dont know the first thing, but I do remember buying a lot of cassingles. Bell Biv Devoe, Boys II Men, ABC, Vanilla Ice. Stuff like that.






q: What is the last album that you purchased?

a: The new Exek record on Superior Viaduct






q: What are the best and worst things about being a musician in 2018?

a: I'm not so sure it's that different now than it ever was. It's difficult to get very many people to care about whatever it is that you are making. The best thing is always how many people you meet. After many many years of touring I know interesting people in most cities. All of my best friends are because of music.




q: What piece(s) of culture are you really really excited about right now (if any)?

a: A bit selfish and shameless self promotion-y but, I just opened a venue in Kingston, NY and I'm genuinely excited to make some kind of a scene happen in our bar.




q: What should we know about Charles' and Roy's Purple Wang?

That it is truly an honor to work with Ben Wallers, Ever/Never has been a dream to work with, Chris Stephenson did all the hard work, and the cover art is by Jeff Mahannah. I hope people like it.


We are super psyched to premiere "Space Ghettos" right now.


Listen.



And here's Side 1, Track 1, "Look! Air Innit?"



Preorder Charles' and Roy's Purple Wang! https://www.midheaven.com/item/charles-and-royaposs-purple-wang-by-spray-paint-the-rebel


Spray Paint is on the internet
Spray Paint is on Bandcamp
Spray Paint is on Facebook
Spray Paint is on Ever/Never
Spray Paint is on Goner
Spray Paint is on 12XU
Spray Paint is on Homeless Records
Spray Paint is on Monofonus Press
Spray Paint is on Upset The Rhythm


The Rebel is on Bandcamp
The Rebel is on Ever/Never
The Rebel is on Sacred Bones Records
The Rebel is on Monofonus Press
The Rebel is on Night School
The Rebel is on Neen Records
The Rebel is on Junior Aspirin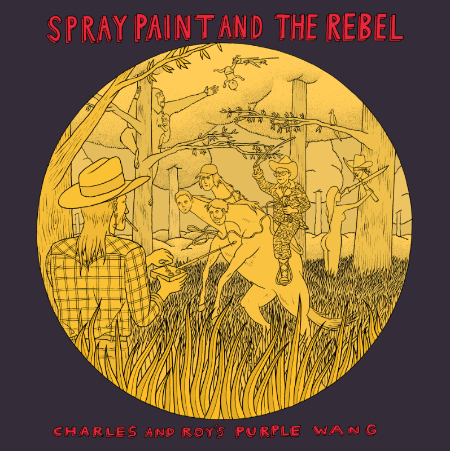 (Slightly) Related Posts: