podcast :: GIMME TINNITUS Radio Time > 2/24/19 (Giggly Boys)


OK, here is the latest episode of GIMME TINNITUS Radio Time with special guest GIGGLY BOYS!

Listen via Mixcloud…



BTW, you can see Giggly Boys tonight at Rose Gold with The Willful Boys, Cheex and Las Hormiguitas!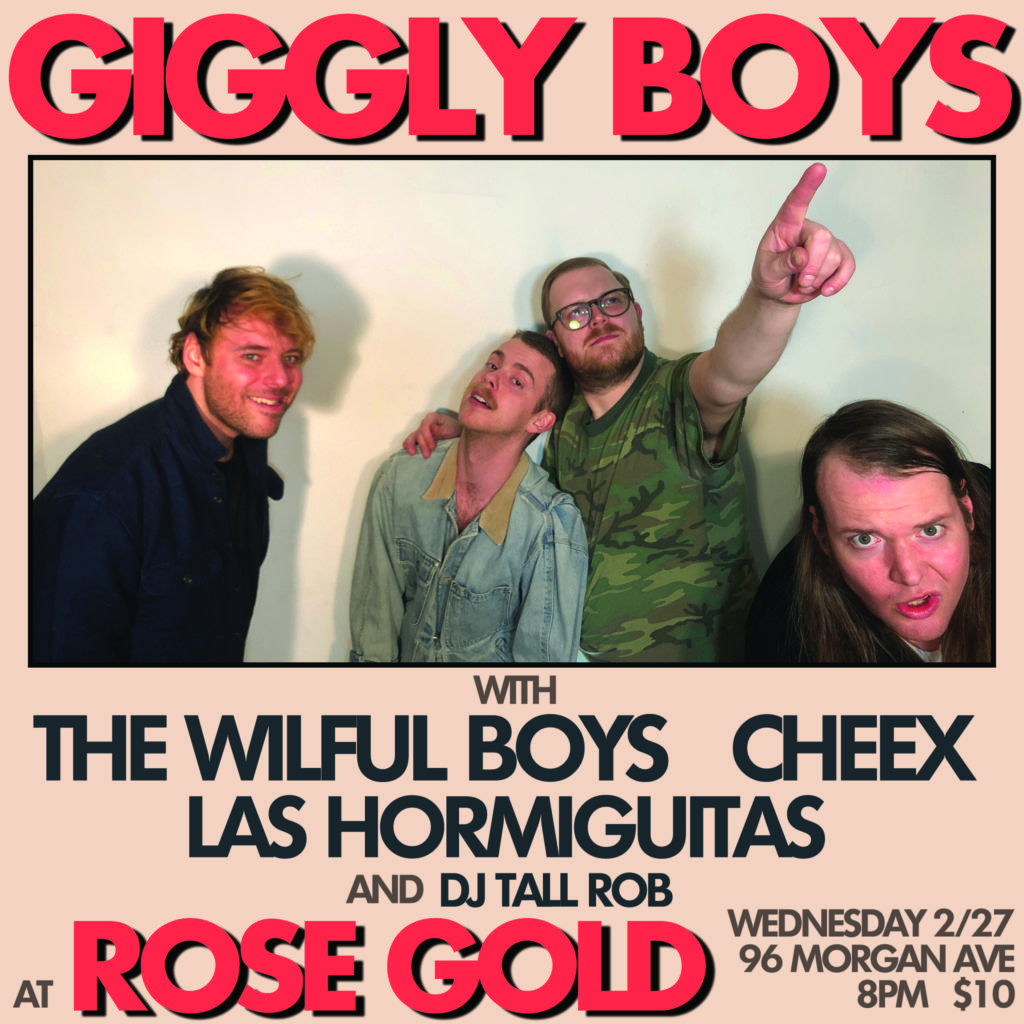 The Playlist for 2/24/19:
Boy Scout by Patio
Validation by Teen Body
Atto I by Be Forest
Used To It by Glued
Taffy by Leggy
Six Rivers by Dreamtigers
Good Time Charlie by Priests



GIGGLY BOYS "bands that we have played with" Playlist

Giggly Boys "Another Close Call" from Another Close Call b/w Dead Again 7″
The Wilful Boys "Head Check" from Life Lessons
Thick "Lyfe" from Would You Rather
Patois Counselors "Clean Skits" from S/T 7″
The Gotobeds "Affection" from Poor People are Revoltiong
Milk Dick "Kids on the Corner" from It Grows on You
Fat Spirit "Cave" from Nihilist Blues
Oceanator "Mistakes" from Lows
Should've "Down" from Flesh From Bone
Bambara "Jose Tries to Leave" from Shadow on Everything
Giggly Boys "House of Janes" from Tap Tap Tap on a Fragile Bowl
Cheex "Shut Up" from Youtube
Lithics "Excuse Generator" from Mating Surfaces
Honey "Dream Come Now' from New Moody Judy
Taiwan Housing Project "Authentic Alien Perfume" from Veblen Death Mask
Weeping Icon "Jail Billz" from Eyeball Under
Psychic Teens "Hex" from Hex




Hit the Rocks by Giggly Boys
Fear of Death by Stringer (RIP Mark Fletcher)
Make It Up by Shady Bug
Selective Memory by Collate
Only From One Side by Truth Cult
The Jaws by XETAS
Loading the Gun by DEVIANT
The Solution (Is Resistance) (الحل الممقاومة) by HARAM
Policia No Me Pegue by MALDITA
Me das asco by Heterofobia
Forest Pt. 1 (Blind Willow Sleeping Woman) by Ernia
Force Fed by State Funeral
Uterine Industrialisation by Vemon Prison
Cheat Code by wiki


BONUS STREAMBLES:

UPDATE! The next GTRT is coming up 3/10/19 @ 4pm! Woo.


Newtown Radio is on the internet
Newtown Radio is on Facebook
Newtown Radio is on Twitter
Newtown Radio is on Youtube


There is a GIMME TINNITUS tag @ newtownradio.com.
If you like what you hear on GTRT, you should probably purchase music from the above artists at your local independent record store or better yet buy directly from the band at the merch table at a show.
And, if you haven't done it already, make sure you check out the other GTRT episodes.



(Slightly) Related Posts:
(Pretty Much) No Related Posts