best of 2019 :: Favorite Releases of the Year


2019. What a year in music. Here are 100+ releases that amazed me, presented for you in alphabetical order. Scroll down. All the way down. Most of the stream here are from bandcamp. If you like what you hear, click through and purchase the album or better yet if the artist is touring/playing near you… go see them live. Buy their music direct from the band at the merch table. If I am missing something amazing from this year, leave a comment below.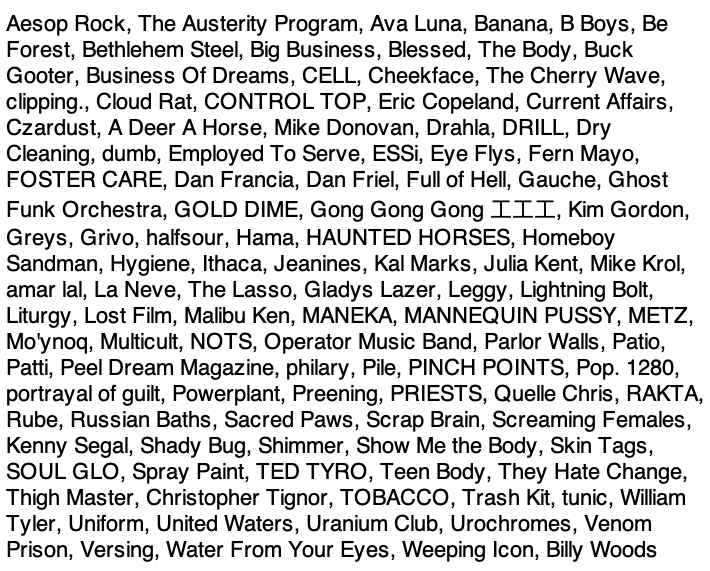 A Deer A Horse – Everything Rots That Is Rotten EP




Aesop Rock & TOBACCO are Malibu Ken – S/T




The Austerity Program – Bible Songs 1 EP




Big Business – The Beast You Are




Business Of Dreams – Ripe For Anarchy




clipping. – There Existed an Addiction to Blood EP




CONTROL TOP – Covert Contracts




Eric Copeland – Trogg Modal Vol. 2




Current Affairs – Object & Subject




Czardust (Ohbliv & Sadhu Gold) – The Ra(w) Material




Mike Donovan – Exurbian Quonset




DRILL – THIS IS NOT A DRILL EP




Dry Cleaning – Sweet Princess EP




Dry Cleaning – Boundary Road Snacks and Drinks EP




Employed To Serve – Eternal Forward Motion




Dan Francia – Come Back To Life




French Vanilla – How Am I Not Myself?




Gauche – A People's History of Gauche




Ghost Funk Orchestra – A Song For Paul




Gong Gong Gong 工工工 – Phantom Rhythm 幽靈節奏 (幽霊リズム)
(purchase)



Greys – Age Hasn't Spoiled You
(purchase)



Ithaca – The Language Of Injury




Kal Marks – Let The Shit House Burn Down EP




The Lasso – The Sound Of Lasso




Lightning Bolt – Sonic Citadel




Mo'ynoq – Dreaming in a Dead Language




Parlor Walls – Lunchbox / Spinning Gold




Peel Dream Magazine – Up and Up EP




portrayal of guilt – Suffering Is A Gift




Powerplant – People In The Sun




PRIESTS – The Seduction of Kansas




Rube – Clean, Masculine & Confident




Sacred Paws – Run Around The Sun
(purchase)



Scrap Brain – A Journey Into Madness




Screaming Females – Singles Too




Show Me the Body – Dog Whistle




SOUL GLO – THE NIGGA IN ME IS ME




Spray Paint – Into The Country




They Hate Change – Juices Run Clear EP




They Hate Change – Maneuvers EP




Thigh Master – Now For Example




Christopher Tignor – A Light Below




Uniform & The Body – Everything That Dies Someday Comes Back




Uranium Club – The Cosmo Cleaners




Water From Your Eyes – Somebody Else's Song




billy woods – Terror Management




Billy Woods & Kenny Segal – Hiding Places




You can check out the other GT Best Of posts… here.


AND remember there's always lots to stream at:
(Slightly) Related Posts: