mp3s: April 2008 Mix
It's time again to kick back and relax. Stop thinking obsessively about the now and look back to a slightly more more idyllic time, one year ago.
Here is the April 2008 Mix.
1. Cat Swallow (pirate pirate mp3) by Royal Bangs
2. Eraser (sub pop mp3) by No Age
3. Spy/Glass House (mp3) by Feral Children
4. (I'm A) Don Juan (mp3) by The Embarrassment
6. Slack Motherfucker (superchunk mp3) by Radar Bros.
7. Cherry Bomb Country (mp3) by Spoon
8. White Winter Hymnal (sub pop mp3) by Fleet Foxes
9. Uncalibrated (mp3) by Bridges And Powerlines
10. Periwinkle Blues (mp3) by Spanish Prisoners
12. Torture (mp3) by King Khan And The Shrines
13. Well Fuck You Then (mp3) by Dark Meat
14. We Have A Technical (beggars mp3) by Gary Numan & Tubeway Army
15. It's A Fact (Mano Remix Featuring Hollywood Holt) (mp3) by Matt & Kim remixed by M$M Featuring Hollywood Holt
16. A Little Bit Of Feel Good (Low Scores Remix) (mp3) by Jamie Lidell remixed by Low Scores
17. Like It Or Not (El Guincho Remix) (mp3) by Architecture In Helsinki remixed by El Guincho
18. Nude (Holy Fuck Remix) (mp3) by Radiohead remixed by Holy Fuck
19. Army Of Me (Bjork Cover) (mp3) by Liars (source: Stereogum Presents… Enjoyed: A Tribute To Björk's Post)
20. I Sold My Organs (better looking mp3) by Meho Plaza
21. It's Epidemic (mp3) by The Cops
22. Mr. Ego Death (mp3) by We Versus The Shark
23. Only The Young (mp3) by Traindodge
24. I Hate Numbers (mp3) by Dinowalrus
25. Summers and Autumns (mp3) by Monotonix
26. Cocksuckerbastardmotherfucker (mp3) by Necropolis
27. Torch (mp3) by Gobblehoof
28. Hairvest (mp3) by When Dinosaurs Ruled The Earth
BONUS: This Is What You Wanted by Part & Labor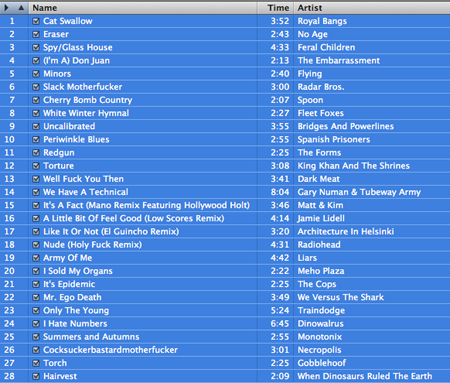 (Slightly) Related Posts: