mp3s :: The August 2008 Mix
So let's go back to August 2008 and try and remember what it was like.
Downloadables:
IDWGH (mp3) by The Exeter Popes
Summer Grof (mp3) by Spinto Band
Bright And Shining (mp3) by Koushik
Death (Crystal Castles Remix) (mp3) by White Lies
My House (mp3) by Freshkills
Never Stops (mp3) by Deerhunter
S.S.C. (mp3) by Atlas Sound
Mirando (YACHT Remix) (mp3) by Ratatat
In Ear Park (mp3) by Department Of Eagles
We Are Young (mp3) by The Shaky Hands
Crystal Stilts (mp3) by Crystal Stilts
Electric Car Gas Guitar (mp3) by Dinowalrus
Catalogs (mp3) by Double Dagger
Where Do You Run To (mp3) by Vivian Girls
Oh, You Horny Monster! (mp3) by Fiasco
See/Saw (mp3) by Jay Reatard
If you haven't done it already, make sure you check out the other Monthly Mixes.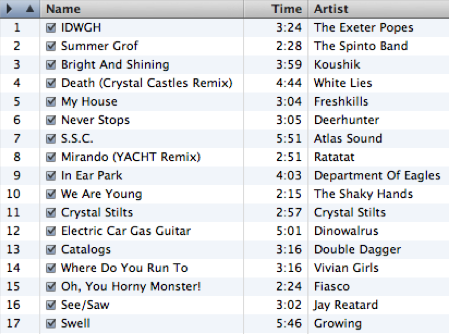 (Slightly) Related Posts:
(Pretty Much) No Related Posts