post supplement :: HEALTH GET COLOR Golden Ticket Contest
Here are the 66 tickets and corresponding prizes in that Health contest.
GOLD.
1ST PRIZE.
LOS ANGELES ADVENTURE
ROUND TRIP AIRFARE. THREE DAYS AND TWO NIGHTS OF NON STOP ENTERTAINMENT. YOU ARE STAYING WITH US. WE WILL TAKE YOU TO MAGIC MOUNTAIN. WE WILL TAKE YOU THE ZOO. WE WILL BRING YOU BREAKFAST IN BED. WE WILL LOVE EACH OTHER.
DISCLAIMER: IF YOU HAVE BEEN REMANDED TO EITHER A PENITENTIARY OR A MENTAL HEALTH FACILITY FOR A CUSTODIAL SENTENCE UP TO OR EXCEEDING 30 DAYS, PLEASE PROVIDE US WITH FULL DISCLOSURE. THIS IS FOR OUR SAFETY AND YOURS.
MULTI COLOR
2A – 2B
CARE PACKAGES.
THESE WILL BE COMPRISED OF PERSONAL ITEMS FROM EACH MEMBER.
SURPRISE CONTENTS MAY RUN THE GAMUT FROM A REJUVENATING FACIAL MASK TO A FRAMED PHOTOGRAPH OF B.J'S MOTHER.
TURQUOISE
3A – 3C
POSTER/TEST PRESSING
HAND SILK SCREENED POSTER OR LP TEST PRESSING AUTOGRAPHED IN OUR BLOOD.
VIOLET
4A – 4D
INTOXICATED VIDEO CHAT + ARTS AND CRAFTS TIME.
WE WILL GET STEADILY INEBRIATED WITH YOU OVER I-CHAT WHILE WORKING ON A PROJECT TOGETHER. WE COULD MAKE A BIRD FEEDER OUT OF A MILK CARTON. WHEN WE ARE DONE WE CAN SEND EACH OTHER THE FINISHED PRODUCT
NOTE: THE UNITED STATES POST OFFICE WILL NOT ALLOW YOU TO SEND BODILY FLUIDS VIA STANDARD MAIL.
ORANGE
5A – 5E
AUTOGRAPHED VINYL
WE WILL SELECT A FAVORITE ALBUM FROM OUR COLLECTIONS, SIGN IT AND SEND IT TO YOU.
NOTE: AUTOGRAPHS WILL BE SIGNED IN INK, AS THE BLOOD FEATURE APPLIES ONLY TO 3A – 3C
RED
6A – 6F
AUTOGRAPHED BOOK.
WE WILL SELECT A BOOK FROM OUR PERSONAL LIBRARIES AND INCLUDE A SIGNED INSCRIPTION. FEEL FREE TO EXPRESS ANY GENRE PREFERENCES BUT BARE IN MIND THAT COOKBOOKS AND INSTRUCTIONAL/SELF HELP GUIDES ARE OF LOW AVAILABILITY.
GREEN
7A – 7G
GUEST LIST FOR TWO
WE WILL PROVIDE YOU AND A FRIEND WITH FREE TICKETS TO A HEALTH SHOW NEAREST YOU. ADDITIONALLY, WE CAN SPEND SOME TIME TOGETHER BACKSTAGE. BEER AND SNACKS WILL BE COMPLIMENTARY.
NOTE: RESTRICTED TO CONTINENTAL UNITED STATES
BLACK
8A – 8H
1 HEALTH T-SHIRT
IF YOU PREFER, YOUR FAVORITE MEMBER OF THE BAND WILL WEAR THE SHIRT FOR AN ENTIRE DAY BEFORE IT IS SHIPPED TO YOUR DOORSTEP.
BLUE
9A – 9I
AUTOGRAPHED 7″/ AND A LOCK OF A BAND MEMBER'S HAIR.
REALISTICALLY, THE LATTER ITEM WILL COME FROM EITHER JOHN OR B.J., DUE TO THE FACT THAT THEY HAVE THE MOST LOCK WORTHY HAIR.
MAGENTA
10A – 10J
MISCELLANEOUS
10A A HISTORICAL THEMED PHONE CALL FROM THE BAND.
10B A RECORDING OF BJ COVERING A 90'S SONG OF YOUR CHOOSING.
10C A RECORDING OF A SHORT STORY READ BY A BAND MEMBER.
10D WE WE'LL PERSONALIZE YOUR VOICEMAIL GREETING.
10E A BOUQUET OF FLOWERS FROM THE BAND.
10F AN ASTROLOGICAL CONSULTATION WITH JUPITER'S MOTHER.
10G A COPY OF JOHN FAMIGLIETTI'S STUDENT FILM.
10H AN UPLIFTING PHONE CALL FROM HEALTH'S MANAGER.
10I A PERSONALITY TEST HAND COMPLETED BY A BAND MEMBER
10J A BAG OF JUPITER'S CAT'S HAIR PLUS A PHOTO OF HER.
FUCHSIA
11A – 11K
ADDITIONAL MISCELLANEOUS
11A B.J'S LITTLE LEAGUE JACKET
11B A PAPER NINJA STAR CONTAINING A GRAM OF 40X SALVIA
11C A CHILDHOOD TOY
11D KNITTED SCARF MADE BY JAKE'S MOTHER
11E BAND MEMBER FINGERPRINTS
11F MIXED TAPE/CD HAND DECORATED BY THE BAND
11G HEALTH'S HIGH SCHOOL BAND'S CD MIXTAPE
11H JUPITER YOUTH PACKAGE (PHOTO'S, HOMEWORK, TEARS)
11I A PAINTING BY JOHN'S MOTHER.
11J LEARN A MAGIC TRICK FROM OUR MANAGER VIA VIDEO CHAT
11L WE CONFERENCE CRANK CALL A PROMINENT INDIE MUSICIAN TOGETHER
BONUS: Crimewave (mp3)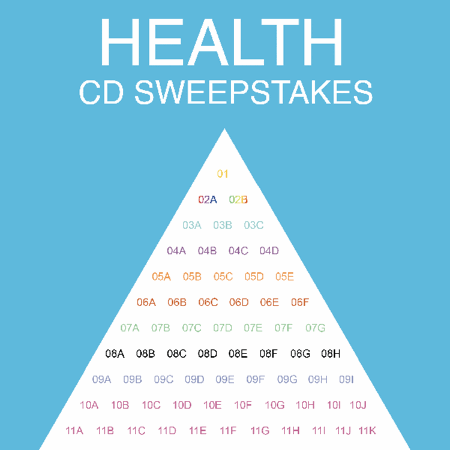 (Slightly) Related Posts: