CMJ09 :: nyctaper!
Here are the results of my visit to the nyctaper showcase at Bruar Falls.
[Tweet] # #cmj09 :: on my way to nyctaper showcase, but first need coffee :: I wonder if I missed anything good
[Note] damn, I missed unicycle loves you
[Downloadable] Highway Robbery (mp3) by Unicycle Loves You
[Tweet] # #cmj09 :: crowd is kind of thin at nyctaper :: didn't catch the name of the band :: they are from omaha :: indiepop goodness!
[Thin Crowd Photo]

[Tweet] # #cmj09 :: more people showing up, but you can still see the stage from the bar :: female singer drinking a pint w/ both hands… very cute
[T_____ P____ Photo]

[Tweet] # #cmj09 :: the name of the band is thunder power :: up next is the loom :: set times as posted –> http://twitpic.com/mhnlc
[Downloadable] Take A Hike (mp3) by Thunder Power
[Set Times Twitpic]

[Tweet] # #cmj09 :: psyched to see a whole blood warrior set :: might have to leave before kittens ablaze (or is it aflame shit can't remember)
[Downloadable] Gloom Doom Buttercups (mp3) by Kittens Ablaze
[Tweet] # #cmj09 :: the $3 Falls Amber isn't half bad :: the loom is setting up :: built to spill on the soundsystem :: french horn in the house!
[Tweet] # #cmj09 :: dig the extra percussion! :: chamberpop w/o the chamber? :: trumpet and banjo together at last :: woah, took a while to kick in
[Downloadable] Song For The Winter Sun (mp3) by The Loom
[Tweet] # #cmj09 :: the loom has one more song :: need some food to soak up the beer, but where to go? :: checking out foodswings vegan fastfood
[Loomish Photo]


[Tweet] # #cmj09 :: blood warrior bringing their gear into bruar :: peasant playing + making jokes about pennsylvania :: veggie burger sittin pretty
[Tweet] # #cmj09 :: outside at bruar falls –> http://twitpic.com/mi1f3
[Twitpic Of A Beautiful Day]

[Tweet] # #cmj09 :: blood warrior almost ready :: seem to be waiting for something :: here we go blood warrior :: q – how is everybody? a – we suck
[A Blood Warrior Photo]

[Tweet] # #cmj09 :: blood warrior is a little less foot stompin than o'death, but not much :: wow rock guitar :: feel like singing along
[Downloadable] Darling Eyes (Live At After The Jump Fest 2009) by Blood Warrior (props to nyctaper)
[Tweet] # #cmj09 :: best percussion since zaza –> http://twitpic.com/mi4l1
[Blood Warrior Twitpic]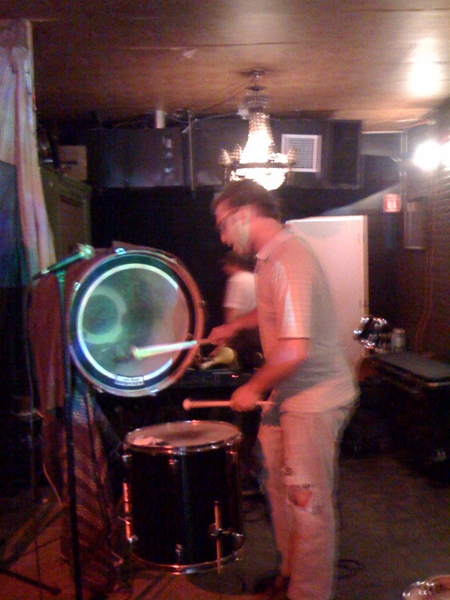 [Tweet] # #cmj09 :: blood warrior finishing up :: ack… FEEDBACK :: awesome set from blood warrior :: taking off — may be it for the day, we'll see
(Slightly) Related Posts: