mp3s :: Record Store Day 2010
I just realized I haven't blogged about my Record Store Day experience yet. I made some time to check out Sound Fix in Williamsburg. Unfortunately, all the RSD goodies were gone by the time I got there. So what did I get? Nothing all that "out there." In fact, I really didn't take any chances at all (yes, frequent visitors to this blog probably already have all the mp3s below). Previously on RSD, I would purchase used CDs of albums I had not heard (e.g. Zs, Blues Control). This time I went for the vinyl of albums where I already had the digital. And guess what, they are all awesome. My purchases follow…
:: Sisterworld (Deluxe Edition) by Liars
Listen: Scissor (mp3)
Watch: Scissor (youtube) (embedding disabled so follow the link)
and there is also that remix disc…
Stream: Scissor (Remix by Pink Dollaz, Lance Whitaker and Transformation Surprise) (youtube)
ytaudio(zu5iiqiIvvo)
You can purchase Sisterworld from Insound

:: Coconut (on snazzy yellow vinyl) by Archie Bronson Outfit
Listen: Shark's Tooth (mp3)
Watch: Magnetic Warrior (youtube)
You can purchase Coconut from Domino Records

:: No Mas by Javelin
Listen: Oh! Centra (mp3)
Listen: Vibrationz (mp3)
Watch: C Town (Live @ NYU) (youtube)
You can purchase No Mas from Luaka Bop

Truthfully though, when you are obsessed with music, any day can turn into "record store day." So, go to your local independent record store today. Clicking through mp3 aggregators and/or blogs is just not the same a flipping through stacks of LPs. Music can be more than zeros and ones, listening to a little vinyl will remind you of that fact.
However, if you really really do not feel like going to a record store you can of course order one of the above records by clicking on the purchase link provided.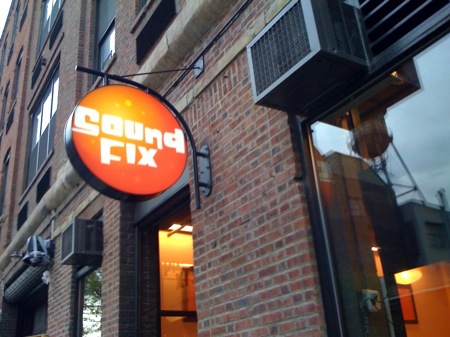 (Slightly) Related Posts: