mp3s :: NOT POSTED Mix, Vol. 9
It's time to listen to the tracks I have not posted recently. Here is the next NOT POSTED mix. These are some of the songs that would get their own individual posts here on GIMME TINNITUS, if I only had the time. This mix starts out heavy and then gets weird. Listen.
Downloadables:
Forsaken (mp3) by Kylesa
(D/L the Metal Swim Compilation @ Adult Swim)
NEW SONG (mp3) by PROFESSOR CALCULUS
(D/L the CHARE EP @ Mediafire)
Infinity Guitars (mp3) by Sleigh Bells
Pogo (mp3) by Eternal Summers
Gagdad (mp3) by The Soft Pack
Never Listen To Me (mp3) by The Thermals
Waterfall (mp3) by Fresh & Onlys
A Man with No Ankles (mp3) by Owen Pallett
Lunatic, Lunatic, Lunatic (mp3) by Margot & The Nuclear So And So's
Blue & Silver (mp3) by Lower Dens
Fuguefat (mp3) by The Octopus Project
Victory Gin (mp3) by Computer Magic
Modern Disbelief (mp3) by Blackbird Blackbird
(D/L the Modern Disbelief EP @ Bandcamp)
Smell It (Starfucker Remix) (mp3) by Copy
What Time Is It Now (Lymbyc Systym Remix) (mp3) by The Consulate General
(D/L the Consulate General Remixes, Volume Two @ Circle Into Square)
You Won't Need Me Where I'm Goin' (mp3) by How to Dress Well
GLOOMY GUTS (ft Craft Spells) (mp3) by MICKEY MICKEY ROURKE
(D/L Inner Gazing @ Bandcamp)
TV All Greasy (feat. Anti-Pop Consortium) (mp3) by TOBACCO
Be sure to check out the other NOT POSTED mixes.
And if you like what you hear you should probably purchase music from the above artists at any of these fine online retailers (or your local independent record store):
Insound | Amazon MP3 | eMusic | Other Music
Also, If you want to download all (or most of) the tracks in this post, you should probably think about installing the DownThemAll! or FlashGot Firefox extensions.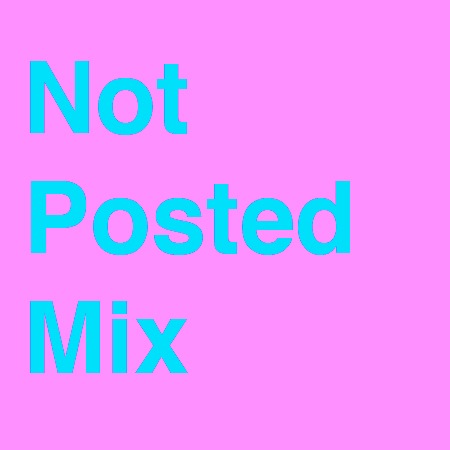 (Slightly) Related Posts: