q and also a :: THE FIELD RECORDINGS
The members of THE FIELD RECORDINGS sent us these answers to our questions in this the 1st installment of the 2nd series of our q and also a feature. Enjoy.
q: What is the last song you (really) heard?
DANIEL: My girlfriend and I have been stuck on listening to Uncle Albert/Admiral Halsey (youtube) by Paul McCartney for about a month now. And, having heard both the original vinyl record (thru Kel's Grandmother's 1970s tuner) and the iTunes clean-up—the muck isn't there, the rainstorm that used to clip and then make sense on the record, where'd that go? I hope it goes beyond that boring Vinyl Puritanism, but maybe it doesn't—maybe we're just sterilizing everything too much?
JARED: Endless Eyes (youtube) by Alain Johannes
NOEL: Wild Eyes (mp3) by Vivian Girls
q: What is your favorite beverage?
IN UNISON: "coffee" for all three of us–practice never starts without a full pot.
q: What is your favorite band to see live?
DANIEL: The last show I saw was Sufjan Stevens at the Beacon Theater–everything about it—like 11 musicians, dancing, costume changes, lights, projections, balloons falling from the ceiling, the way these huge swells of music felt like a hold on my stomach… Listen: I Walked (mp3)
JARED: The Mars Volta. They just kill it every time (Irony mine).
NOEL: Richard Thompson at the Tarrytown Music Hall.
q: What is your favorite venue in NYC (if applicable)?
DANIEL: There are so many places in NYC that I love–I was sad to see Max Fish go, even though I only went once. But all of us love playing and standing around in the Trash Bar. Pianos is another great room. Also the Cameo Gallery–we've only been there once, but I really enjoyed the lights flitting thru that huge twine mobile they have over the stage…
JARED: The Roseland Ballroom… it's the perfect sized venue for the city, or for bands of any size.
NOEL: The Chance Theatre in Poughkeepsie… It's 3 venues in one, and they'll host almost anybody. (Editor's Note: Poughkeepie is 80 some odd miles from NYC).
q: What piece of culture are you really really excited about right now?
DANIEL: Music. Sure Punk is dead (or at least Joe Strummer's Punk Politik of Caring For Other People is), a bunch of online-failed poets are dictating the taste curve… but I still get overtaken by the huge outlaying of music out there, like listening to someone dictating what you were about to feel even though you can't articulate it—it's one of the brightest I know.
Listen: Straight To Hell (youtube)
JARED: I wrote down, "Politics/End Of Man." (Editor's Note: Hope I got those right.)
NOEL: Experimental Music Culture, the kind you only find through the mail, by way of unlabeled cassettes.
q: Anything we should know about your latest project (whatever that might be)?
IN UNISON: Well, after recording & re-recording & re-recording our debut LP, it seems like we're finally getting to a place where we can get it released, that we're surrounded by a community of people who have some investment in seeing us get a record released. Right now we're trying to simultaneously write 3 new songs, re-write a handful of our older ones, get a record deal, find a keyboardist who can sing, and we're trying to host an evening of bands and visuals at The Space, which is a venue near our hometown in Connecticut.
Downloadables:
The Awkward Circuit Boards (Or: Look Out! I Think I'm Going To Feel!) (mp3)
Statescapes (mp3)
Streamables:
We Will Become Strangers Faster Now (soundcloud)
CASSETTES ARE SYMBOLS FOR FOREVER (bandcamp)
Buy something @ THE FIELD RECORDINGS' Bandcamp page.
Upcoming NYC Shows:
Be sure to check out the rest of the q and also a series… here.
THE FIELD RECORDINGS are on the internet
THE FIELD RECORDINGS are on Bandcamp
THE FIELD RECORDINGS are on Facebook
THE FIELD RECORDINGS are on Twitter
THE FIELD RECORDINGS are on Myspace
THE FIELD RECORDINGS are on elbo.ws
THE FIELD RECORDINGS are on CD Baby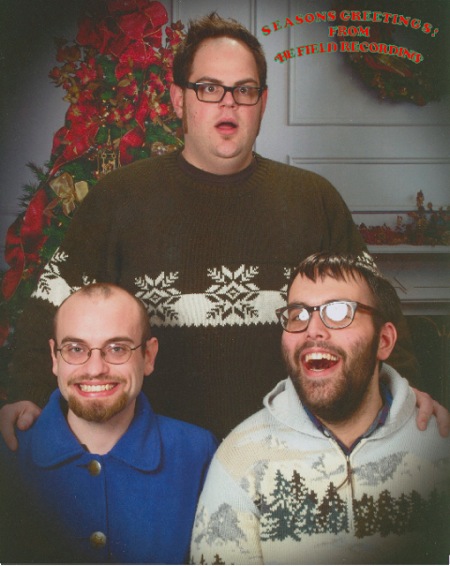 (Slightly) Related Posts: