q and also a :: MiniBoone
Craig, Taylor, James and Doug of MiniBoone sent us these answers to our questions in this next installment of our q and also a series.
q: What is the last song you (really) heard?
c: If I Ever Lose My Faith in You (youtube) by Sting. Sam (MiniBoone's bassist) knows this because he watches my last.fm profile and notices that I like to put it on loop for 30 minutes at a time.
Streamable:
j: How to Rob (youtube) by 50 Cent
Streamable:
d: I've been listening to Katy On a Mission by Katy B a lot. Editor's Note: if you really really want to listen to Doug's song you should feel free to utilize the search capabilities of youtube.com.
q: What is your favorite beverage?
c: Lately I've been drinking kombucha, because I want to live forever.
t: Also, that sexy vitamin water, XXX.
d: I'll say beer just so we have that covered.
q: What is your favorite band to see live?
c: The Clash (on Tape). Ava Luna. Pretty & Nice. Man Man. Chromeo if we are feeling saucy. Zazen Boys.
Streamables:
The Magnificent Seven (live) (youtube) by The Clash
Don't Turn the Lights On (youtube) by Chromeo
Downloadables:
Four Five (I Will Survive) (mp3) by Ava Luna
Pixies (mp3) by Pretty & Nice
Top Drawer (mp3) by Man Man
DARUMA (mp3) by Zazen Boys
q: What is your favorite venue in NYC (if applicable)?
c: Brooklyn Bowl hands down. The fried chicken, free bowling for bands, and amiable staff make it so. Also, we always seem to bowl our best games there.
q: What piece(s) of culture are you really really excited about right now?
c: Sometimes I like to pop by Forbidden Planet and read the Walking Dead comics until the employees kick me out.
j: The Keith Richards autobiography.
d: If Community can keep getting better I will be amazed and extremely pleased.
q: Anything we should know about your latest project (whatever that might be)?
c: We're touring down to SXSW this March with our freshly printed 7 inch single, The Other Summer, in hand. After that, we're going to spend the rest of the spring & summer working on a full-length record, playing a few choice festivals, and wearing shorts sometimes.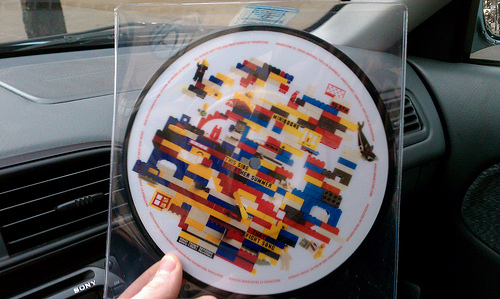 You can order the lego-y The Other Summer b/w Fight Song picture disc @ miniboone.bandcamp.com.
Here are a couple tracks by MiniBoone to check out including the A-Side to their new picture disc. Listen.
Downloadables:
The Other Summer (mp3)
Devil in Your Eyes (mp3)
You can stream the whole of MiniBoone's Big Changes EP below. If you like, why not follow the link and purchase it??
Streamable: Big Changes EP
Upcoming NYC Show:
Be sure to check out the rest of the q and also a series… here.
MiniBoone is on the internet
MiniBoone is on Bandcamp
MiniBoone is on Twitter
MiniBoone is on Facebook
MiniBoone is on Soundcloud
MiniBoone is on Myspace
MiniBoone is on Youtube
MiniBoone is on elbo.ws
MiniBoone is on Hype Machine
MiniBoone is on Ampeater
(Slightly) Related Posts: