q and also a :: ALASKAS
Dillon James Rego a/k/a ALASKAS sent us these answers to our questions in this next installment of the q and also a series.
q: What is the last song you (really) heard?
a: I've really fallen for this song Fireball (youtube) by Don Spencer. It's a pretty song about love and dreams of being a spaceman. I caught it on this teenpopdoowop rarities collection I picked up. A little research tells me that it was the theme song to this show Fireball XL5 that I've never heard of.
Streamable:
Fireball (youtube) by Don Spencer
q: What is your favorite beverage?
a: Y'all ever mix orange juice and ginger beer?
q: What is your favorite band to see live?
a: Foot Village in my old basement in Seattle was probably my favorite live show ever.
Downloadables:
Peru Austria and Canada (mp3)
Anti-Magic (mp3)
Lovers with Iraqis (mp3)
Totally Tween (Live @ CCA) (mp3)
Streamable:
Urination @ LA Approved (vimeo)
q: What is your favorite venue in NYC (if applicable)?
a: Shouts out: Silent Barn, Shea Stadium, Death By Audio, Secret Project/Monster Island (end of days)
q: What piece(s) of culture are you really really excited about right now?
a: Wayne Gretsky's father told him something along the lines of "Don't skate to where the puck is, skate to where the puck's gonna be." I think music and art in the internet age has become a new kind of monster. The last few years have been a bit bleak, but I am expecting something very promising and exciting to bloom this year. A new set of standards, to which I am working and contributing. Don't sleep on it.
The seeds of spring are sprouting and summer's supple sustenance is soon. I'm excited to see what everyone has been working on all winter long to come into light for everyone to see.
q: Anything we should know about your latest project (whatever that might be)?
a: I have recorded 100 songs in the month of April. It became a diary and narrative for myself and reflections on the month and my mental state. Not sure exactly how it will all surface yet, as I am actually finishing up the last tracks and have been full wrapped in it all month long.
Editor's Note: The 100 tracks chime in at 5:15:39.
I have a new single/7 inch coming out on Crikey Records May 7th. You can preorder it right now and get an immediate download of the two tracks, plus a 10 song mixtape of tracks off of the 100 in April.
Downloadables:
Let The State Lines Exist (mp3)
Unshackled (USF Remix) (mp3)
Chicken & Cheese 2 (Foot Village Cover) (mp3) (remix kit)
Streamable:
Walk On The Walls/The Felon 7″ & bonus "FERAL MIXTAPE" (bandcamp)
Chicken & Cheese 2 (Foot Village Cover) (vimeo)
Upcoming Shows:
And be sure to check out the rest of the q and also a series… here.
ALASKAS is on the internet
ALASKAS is on Bandcamp
ALASKAS is on Twitter
ALASKAS is on Facebook
ALASKAS is on Vimeo
ALASKAS is on Myspace
ALASKAS is on elbo.ws
ALASKAS is on Hype Machine
ALASKAS is on High Fives and Handshakes
ALASKAS is on Crikey Records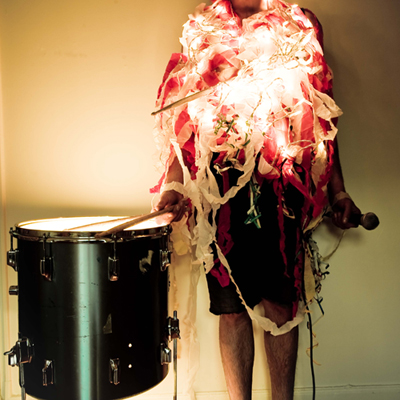 (Slightly) Related Posts: