q and also a :: Radical Dads
Robbie, Lindsay, and Chris of Radical Dads sent us these answers to our questions in this next installment of the q and also a series.
q: What is the last song you (really) heard?
r: Turn Around (mp3) by Lunch.
l: Birds of Paradise Lost (mp3) by Conversion Party. Not only did I hear them play it live the other weekend at Cake Shop's 6th birthday party, my manfriend insists on scatting the bass line, so I continually hear his "interpretation" of it. That said, I still love the song.
c: My Purple Past the last song on side one of Deerhoof's Offend Maggie. It was a wake-up call. I realized I truly have been living a purple life, and something needs to change.
Streamable: My Purple Past (youtube) by Deerhoof
q: What is your favorite beverage?
l: I have a longstanding affinity for the classic Pimm's Cup, especially as made by Ryan Seaton, who plays in Callers and tends a splendid bar at Roman's. And with summer approaching, I imagine I'll be consuming many gallons of the grapefruit-mint margarita from Taco Chulo, which is like a Greyhound (the non-dog kind) on spring break in Tulum. In the non-alcoholic realm, I really enjoy an unfiltered ginger beer.
c: Water served in a mug. I don't like to see what's floating around.
q: What is your favorite band to see live?
l: When I need some rock in my life, I reach for Little Gold. When I'm in an experimental post-psych drone-loop mood, it's Blood Revenge all the way.
c: Les Savy Fav.
Downloadables:
Do The Whirlwind (mp3) by Architecture in Helsinki
Mike Swan V1 (mp3) by Little Gold
Revenge III (mp3) by Blood Revenge
Precision Auto (Superchunk Cover) (mp3) by Les Savy Fav
q: What is your favorite venue (in NYC, if applicable)?
l: Cake Shop! They have the most charming graffiti in their bathrooms.
c: Alice Tully Hall. Best acoustics, hands down.
q: What piece(s) of culture are you really really excited about right now?
r: Anything happening at Desert Island in Williamsburg.
l: I'm going to double co-sign Robbie's answers: Diamond Mouth Surprise's awesome reading/music/film series! And Desert Island. Wish I could get stranded there.
c: The Pale King by David Foster Wallace and the new Krallice album.
Downloadable: Litany of Regrets (mp3) by Krallice
q: Anything we should know about your latest project (whatever that might be)?
r: Blueberries!
l: It can only be expressed by the following emoticon…

c: I'm trying to find time to make a sandwich.
Downloadables:
New Age Dinosaur (mp3)
Recklessness (mp3)
Walking Wires (mp3)
Streamables:
Recklessness (youtube)
Alondra Rainbow Under Attack (Live @ Spike Hill) (youtube)
Upcoming NYC Shows:
And be sure to check out the rest of the q and also a series… here.
Radical Dads are on the internet
Radical Dads are on Facebook
Radical Dads are on Twitter
Radical Dads are on Bandcamp
Radical Dads are on elbo.ws
Radical Dads are on Hype Machine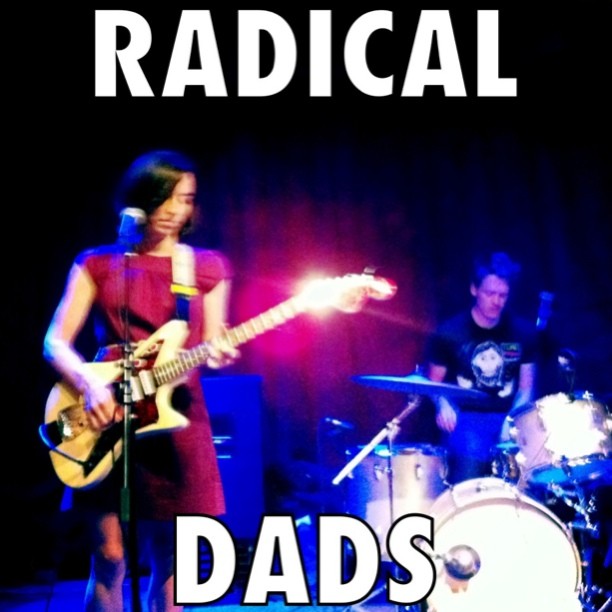 (Slightly) Related Posts: