mp3 :: Wavves > I Wanna Meet Dave Grohl
Life Sux is the new EP from SoCal Weedcore/Dankwave wunderkind Wavves. The EP comes out on September 20 via Nathan Williams' own Ghost Ramp imprint. Because of the hype surrounding the rise of Wavves, it can be pretty easy to dismiss Williams. On the other hand, while the haters probably won't even admit it, the dude writes some catchy-ass tunes.
Listen.
Downloadable: I Wanna Meet Dave Grohl (mp3)
Preorder Life Sux @ (uggh) iTunes.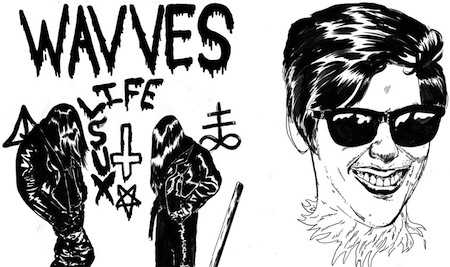 Wavves is on the internet
Wavves is on Twitter
Wavves is on Facebook
Wavves is on Youtube
Wavves is on Blogger
Wavves is on Pukeos
Wavves is on nyctaper
Wavves is on Daytrotter
Wavves is on elbo.ws
Wavves is on Hype Machine
Wavves is on Fat Possum
Wavves is on Green Label Sound
Wavves is on Woodsist
Wavves is on De Stijl
Wavves is on Insound
Wavves is on Amazon MP3
Wavves is on eMusic
BONUS: GLUED (Feat. Zach Hill) (mp3)
(Slightly) Related Posts:
(Pretty Much) No Related Posts