q and also a :: Hunters
Isabel & Derek of Hunters sent us these answers to our questions in this next installment of the q and also a series.
q: What is the last song you (really) heard?
i: Sin In My Heart (youtube) by Siouxsie and the Banshees
d: Green Light (youtube) by Sonic Youth
i: Oh, if you are gonna say Green Light I have to say Star Power (youtube) by Sonic Youth
q: What is your favorite beverage?
d + i: Coffee
i: Mmmmmm bloody marys, vodka and apple juice
d: yes to bloody's and apple / lemon / ginger juice
q: What is your favorite band to see live?
d + i: Melvins. We just saw them do Lysol, Houdini, and Eggnog and it was so good. Two drummers ripping for 2 hours and being insanely tight… Amazing.
Downloadable: Honey Bucket (Live @ MHOW) (mp3) (props to NYCtaper)
You can d/l the whole show @ nyctaper.com.
q: What is your favorite venue (in NYC, if applicable)?
d + i: Dead Herring rules. We like everything about that place. Total club house vibe. Death By Audio is rad too.
q: What piece(s) of culture are you really really excited about right now?
d + i: Netflix watch instantly, hairless cats.
d: Asking our bass player John, and drummer odell about their sex lives.
i: Yeah we are writing a book based on that.
q: Anything we should know about your latest project (whatever that might be)?
d + i: We're making a video for our song "Deadbeat" right now, and we have a 10″ coming out on Swill Children/Aagoo this fall!
We have some shows coming up soon too. August 4th with HAPPY NEW YEAR, Antimagic, Life Size Maps. And we're playing one of the Jelly parties at the end of summer.
Downloadables:
Twins (mp3) by HAPPY NEW YEAR
"Bang." (mp3) by Antimagic
It's Leaking (mp3) by Life Size Maps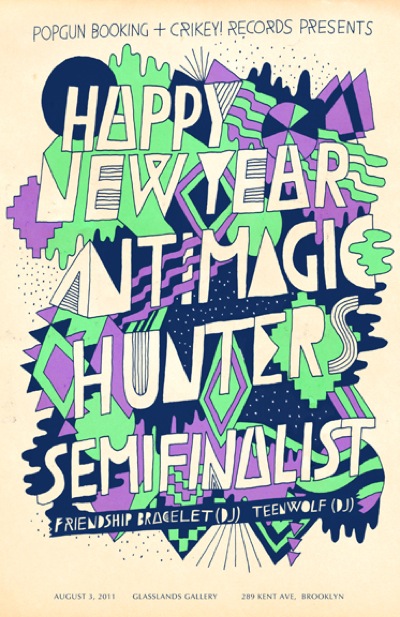 Hunters sent us their latest demo.
Downloadable: Melting (mp3)
And here's a couple other Hunters tracks for your listening pleasure.
Downloadables:
Deadbeat (mp3)
Brat Mouth (mp3)
And be sure to check out the rest of the q and also a series… here.
Hunters is on Tumblr
Hunters is on Bandcamp
Hunters is on Twitter
Hunters is on Facebook
Hunters is on Hype Machine
Hunters is on Swill Children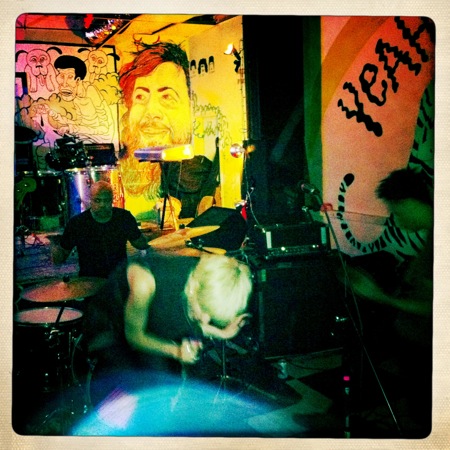 (Slightly) Related Posts: