audio stream :: The Coathangers > Follow Me
GT favs, The Coathangers of Atlanta have a new LP named Suck My Shirt. It comes out on March 18th via Suicide Squeeze. The lead single off of Suck my Shirt dropped a little while back, and it totally rips.
Listen.
Streamable: Follow Me (soundcloud) (as seen)
You can and let's face it, probably should preorder Suck My Shirt @ insound.com.
The Coathangers are getting ready to embark on a pretty massive national tour. Oh look, tourdates:
3/8: Star Bar – Atlanta, GA (RECORD RELEASE!)
3/10: Siberia – New Orleans, LA %
3/11: Fitzgerald's – Houston, TX
3/12 – 3/15: SXSW – Austin, TX
3/16: Spillover Fest – Dallas, TX
3/18: Lowbrow Palace – El Paso, TX
3/20: Pappy and Harriet's – Pioneertown, CA #
3/21: El Rey Theatre – Los Angeles, CA #
3/22: Burgerama Fest – Santa Ana, CA
3/23: Don Quixote's – Felton, CA #
3/24: Great American Music Hall – San Francisco, CA #
3/25: Assembly – Sacramento, CA #
3/27: Rickshaw Theatre – Vancouver, BC #
3/28: Neumo's – Seattle, WA #
3/29: Hawthorne Theater – Portland, OR #
3/30: Neurolux – Boise, ID #
3/31: Urban Lounge – Salt Lake City, UT #
4/2: Bluebird Theater – Denver, CO #
4/3: Sister Bar – Albuquerque, NM #
4/4: Crescent Ballroom – Phoenix, AZ #
4/5: Belly Up Tavern – San Diego, CA #
4/6: Club Congress – Tucson, AZ $
4/9: Grinnell College – Grinnell, IA $
4/10: Turf Club – St. Paul, MN $
4/11: Empty Bottle – Chicago, IL $
4/12: The Bishop – Bloomington, IN $
4/13: Lager House – Detroit, MI $
4/14: Silver Dollar – Toronto, ON $
4/15: Divan Orange – Montreal, QC $
4/16: Great Scott – Boston, MA $
4/17: Baby's All Right – Brooklyn, NY $
4/18: Mercury Lounge – New York, NY $
4/19: Kung Fu Necktie – Philadelphia $
4/20: Comet Ping Pong – Washington, DC $
4/22: Strange Matter – Richmond, VA $
4/23: Milestone – Charlotte, NC $
4/24: Pilot Light – Knoxville, TN $
4/25: The End – Nashville, TN $
4/26: Atlanta Mess Around @ 529 – Atlanta, GA

# – w/ The Black Lips
% – w/ Ex-Hex
$ – w/ Audacity
The Coathangers are on Tumblr
The Coathangers are on Bandcamp
The Coathangers are on Twitter
The Coathangers are on Facebook
The Coathangers are on Hype Machine
The Coathangers are on Suicide Squeeze
The Coathangers are on Insound
The Coathangers are on eMusic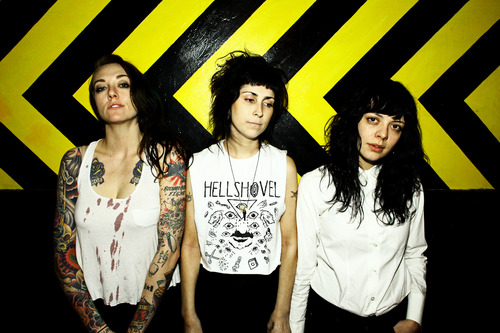 (Slightly) Related Posts: