show :: 02.19.14 @ Silent Barn > Mount Sharp + Tape Deck Mountain + Great Western Plain + Snow What
The next GIMME TINNITUS show is a rock show organized with Hilly Town and it will happen at the great Silent Barn. It will feature some krauty rock and also roll from Portland, ME, some shoegazey post-fi from Bklyn via San Diego, some Gowanus-based fuzz pop, and good ol' indie pop. Supposedly, it will be 45 degrees in Bushwick next Wednesday, so that means you can probably wear jorts.
Wednesday. February. 19th.
Mark Yr Calendars.
HillyTown and GIMME TINNITUS Present:
02.19.14
Silent Barn
603 Bushwick Ave
Doors 8pm / $7
FB rsvp: https://www.facebook.com/events/395910537213203
OMR rsvp: http://www.ohmyrockness.com/shows/107343
MSL rsvp: http://www.mysocialist.com/event/24849
Silent Barn haz a newsletter
Silent Barn is on the internet
Silent Barn is on Tumblr
Silent Barn is on Facebook
Silent Barn is on Twitter
Silent Barn is on Oh My Rockness
Silent Barn is on My Social List
BONUS:
Cold Hands (mp3) by Mount Sharp
That's You (mp3) by Tape Deck Mountain
Wipers (mp3) by Great Western Plain
Our Little Secret (mp3) by Snow What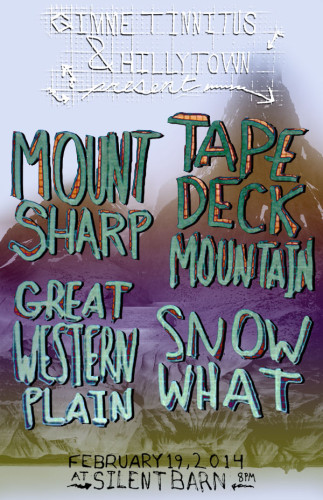 (flyer by bryan bruchman)
Oh and here is an alternate flyer…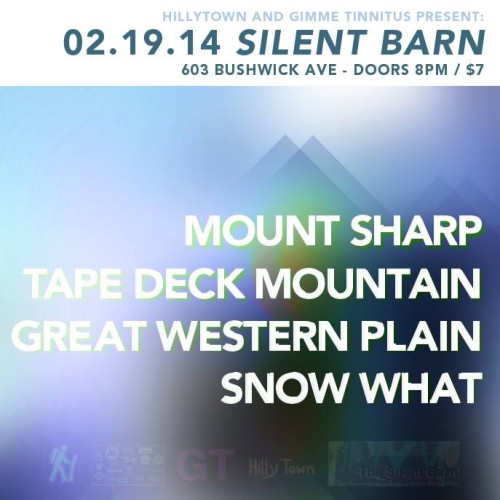 (flyer by travis treistan)
(Slightly) Related Posts:
(Pretty Much) No Related Posts