show :: 10/26/14 @ Death By Audio > Beech Creeps + Sauna Heat + Juniper Rising + Nine of Swords
On October 26th, join us at Death By Audio for a killer bill of rock and roll. The rawk of Sauna Heat (from Savannah, GA), the crashing boom of Beech Creeps, the twang of Juniper Rising, and the brutality of Nine of Swords. This show will melt your face off in the best way possible. Start your Halloween week off right.
Also, DBA is closing its doors on 11/22/14. It is your duty to go see as many shows as possible at Death by before it closes. Right?
October 26th. Death By Audio. Mark yr Calendar.
Listen.
GIMME TINNITUS Presents: GT <3 DBA
Death by Audio
49 S 2nd Street
btw Kent & Wythe
8pm doors /// $8
FB RSVP @ facebook.com/events/293701520836316
OMR RSVP @ http://www.ohmyrockness.com/shows/223661
Death by Audio is on the internet
Death by Audio is on Twitter
Death by Audio is on Oh My Rockness
BONUS:
Gimme Sedatives (mp3) by Sauna Heat
Watch (mp3) by Nine of Swords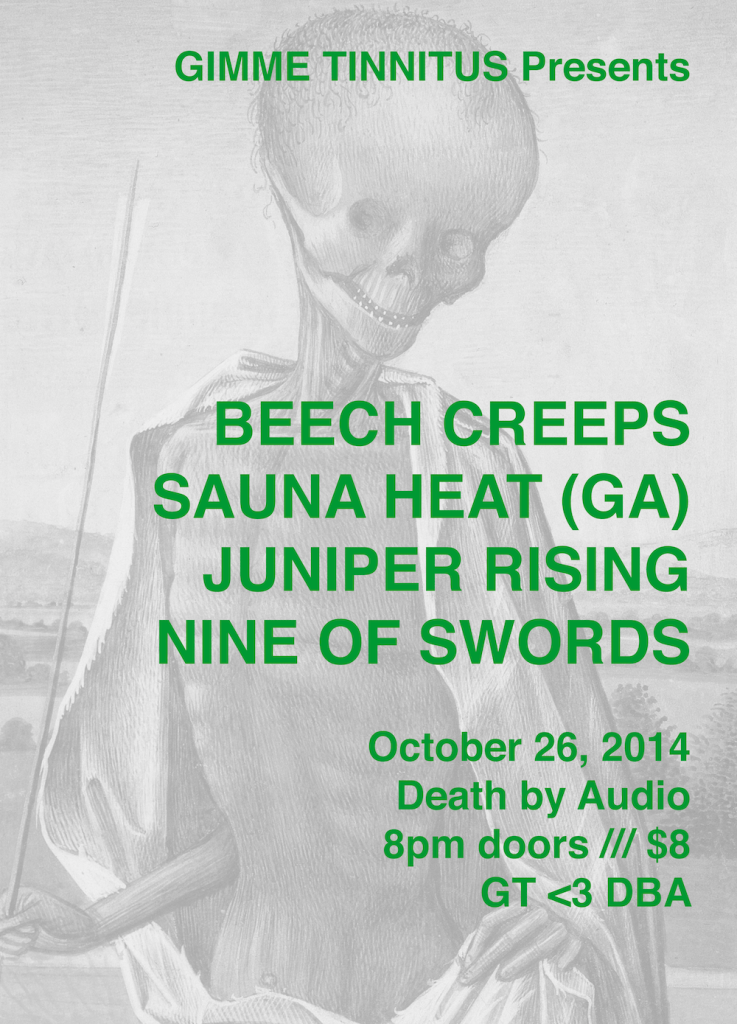 (Slightly) Related Posts: