stream these :: Downtown Boys + True Deceiver + Vaadat Charigim + Spoilers + Miniboone + Turn to Crime + Wolf Diamond
So, here is this week's round up of all the necessary audio/video streams. I'm pretty sure that I am leaving something out, so leave a comment and let me know what's missing. Or not.
Listen.

Downtown Boys have a new Faye Orlove directed video for their song Wave Of History. Purchase their new LP Full Communism @ dongiovannirecords.com (all mail-orders will receive purple vinyl). Watch.




cars and trains doomy side project True Deceiver has a new tripped out video for the song Neutron Star. Pay what you want for the self-titular EP @ truedeceiver.bandcamp.com.
(as seen)



Israeli dreamgaze band Vaadat Charigim has a new video for the first single from their new album Hashiamum Shokea (Sinking As A Stone). The band will be making a special appearance on GIMME TINNITUS Radio Time on Newtown Radio on May 24th. Order Sinking As A Stone at http://burgerrecords.11spot.com/vaadat-charigim-sinking-as-a-stone-pre-order.html. Watch the video for Ein Li Makom.




Spoilers hail from London, UK. They are very good persons. Listen to the super catchy Try Try Try. If you like, buy something from their bandcamp. Ok?




NYC poprockers Miniboone has a new video for the song Wake Up Factory Bouquet, off their latest record, Bad Sports. Buy it @ miniboone.bandcamp.com. The video was directed by Bryan Bruchman (also of Mount Sharp). Watch.




Detroit's own Turn to Crime have a new video for their song Light. It is appears to be tribute to go go dancing on acid. Buy Turn to Crime's new LP Actions @ turntocrime.bandcamp.com.




Brooklyn Wolf Diamond has a new Luke Carr directed video for their song Catatonia. Pay want you want for last year's Diamonds Are Forever @ wolfdiamond420.bandcamp.com.




And I didn't even get to the stream of the new NEEDS LP (preorder), the new album of Malian mix of kuduro, decale, dancehall and trap by Supreme Talent Show, or the cooking show with David Fucking YOW.


AND remember there's always lots to stream at the GIMME TINNITUS Soundcloud or the GT Youtubes, and also at the GT Tumblr too.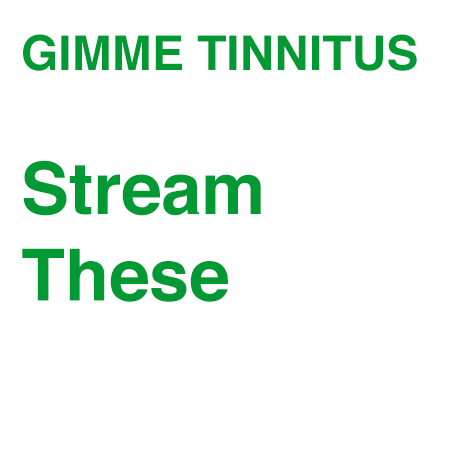 (Slightly) Related Posts:
(Pretty Much) No Related Posts