music video :: TURBOSLEAZE > Ronald McDonald's Unusual Balls Clasp
Underdog Pop week continues here at GIMME TINNITUS with the premiere of the music video for the instrumental ditty Ronald McDonald's Unusual Balls Clasp by Bronx punks TURBOSLEAZE. This track is off the initial release on Underdog Pop simply titled McDonald's. The video is mainly the boys having fun and making a spectacle in Times Square dressed up part-Ronald McDonald, part-Kiss, part-ICP. Although it is over in a blip, the most important image in the video is when the camera spins around the TURBOSLEAZErs and they each give the finger to Times Square.
SPOILER ALERT: the video ends with a message to the tourists in Times Square who don't understand TURBOSLEAZE's message:
Nobody Go To McDonald's
And now Ronald McDonald's Unusual Balls Clasp…
Did you check out the McDonald's EP already at IMPOSE? If not, stream it below…
And purchase the digital or the 7″ @ turbosleaze.bandcamp.com.
TURBOSLEAZE is on Bandcamp
TURBOSLEAZE is on Facebook
TURBOSLEAZE is on Twitter
TURBOSLEAZE is on Underdog Pop
TURBOSLEAZE is on Intellectual Bird Records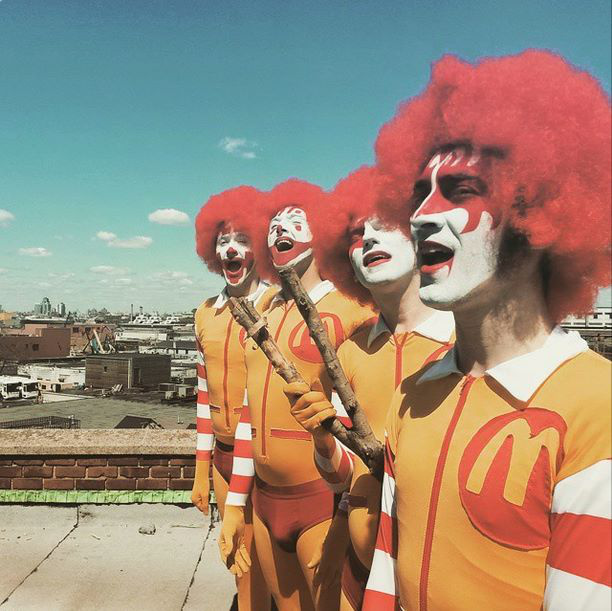 (Slightly) Related Posts: