stream these :: Woodsman + Angel Dust + Sealings + Teenage Jesus and the Jerks
So, here is this week's round up of all the necessary audio/video streams. I'm pretty sure that I am leaving something out, so leave a comment and let me know what's missing. Or not.

Listen.

Woodsman uploaded a free non-album track entitled Parallel Minds (Reprise). It was recorded at Strange Weather during their eponymous LP sessions. You can buy the Woodsman LP at woodsmanman.bandcamp.com.




Specialist Morgen J posted a new album by his noisy ambient side project Angel Dust on his soundcloud. Here is one track called Wet Hands. Pay what you want for Heavy Set at angeldustt.bandcamp.com.




Sealings offer TOTAL SONIC ANNIHILATIONâ"¢ brand punk rock. GT favs Faux Discx and Italian Beach Babes tapes are teaming up to release Sealing's debut. Preorder at fauxdiscx.bandcamp.com.




We all need more Teenage Jesus and the Jerks in our lives. Here's Orphans.




AND I did not even mention the new FUZZ, or the Empty Head music video from Screaming Females, or the preview of the new Dark Thoughts EP, or the Diet Cig performance on BTR Live Studio.


AND remember there's always lots to stream at the GIMME TINNITUS Soundcloud or the GT Youtubes, and also at the GT Tumblr too.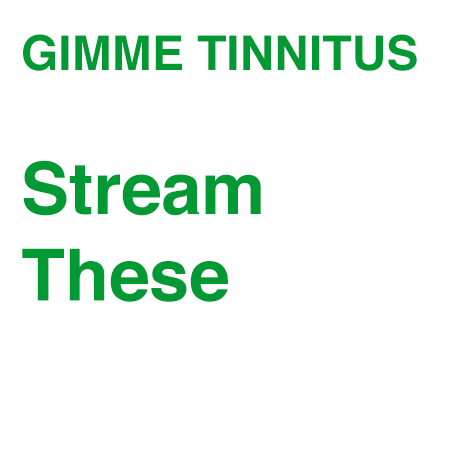 (Slightly) Related Posts: