stream these :: Power Trip + Busdriver + Pulsatile Tinnitus + Bonnie Baxter + Tape Waves + Body/Head + Death Makes Brothers of Us All + Immersion + Deeper + Sneaks + Bruce Haack + Armand Hammer + East Brunswick All Girls Choir


So, here is a round up of all the necessary audio/video streams from the somewhat recent past. I'm pretty sure that I am leaving something out, so leave a comment and let me know what's missing (or not).


Listen.




THE BANDCAMPS


Right before the Miracle by Busdriver




Sitting With a Pit In My Heart, Waiting For It To Fill by Pulsatile Tinnitus
(as seen)



ASK ME HOW SATAN STARTED by Bonnie Baxter




THE YOUTUBES



You Don't Need by Body/Head




We Are Brothers (Movement V) by Death Makes Brothers of Us All
https://www.stereogum.com/1991608/immersion-microclimate-feat-holy-fucks-matt-schulz/premiere/



Pavement by Deeper




THE SOUNDCLOUDS


When Mothers Of Salem (Previously Unreleased) by Bruce Haack




Leave The City by East Brunswick All Girls Choir




THE LINKS


Fields (app): https://pitchfork.com/thepitch/fields-wants-to-be-the-augmented-reality-app-for-experimental-music-fans-and-creators-alike/



AND remember there's always lots to stream at the GIMME TINNITUS Soundcloud or the GT Youtubes, and also at the GT Tumblr too.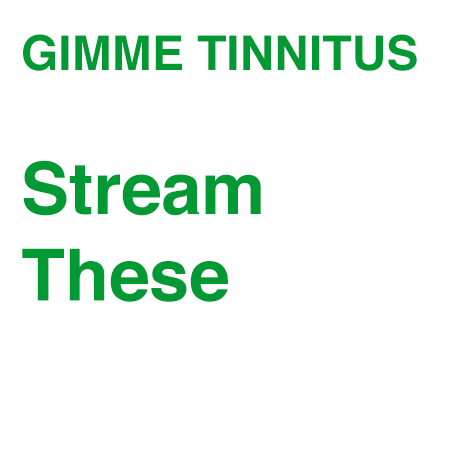 (Slightly) Related Posts:
(Pretty Much) No Related Posts