Consider CLICKing: The Pains Of Being Pure At Heart on WOXY + Extra Golden mp3 + Vampire Hands
– Straight from Austin… it's the new Pains Of Being Pure At Heart recorded by WOXY.
Downloadable: 103 (Live) (woxy mp3)
Get the rest of the Lounge Act at The Futurist… here. Check out all the SXSW Lounge Acts… here.
– Here's the new Extra Golden track off their new album Thank You Very Quickly.
Downloadable: Anyango (thrill jockey mp3)
– All of a sudden it seems that Vampire Hands is everywhere… @ Fluxblog… @ Raven Sings The Blues… @ Oh My Rockness…. @ Pop Tarts Suck Toasted, They're everywhere!
Downloadable: Safe Word (mp3)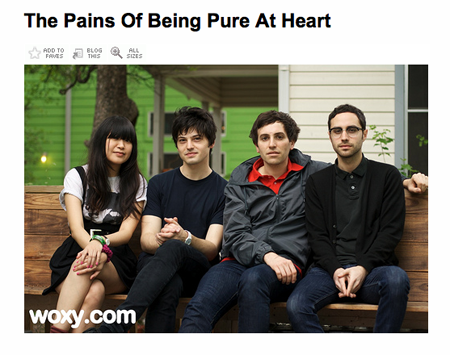 (Slightly) Related Posts: