bestof2009 :: The Top 109 Downloadables
So this post contains (pretty much) all of my favorite mp3s from 2009. I have not put them in any sort of preferential order. These are sorted by artist in alphabetical order.
Take your time, scroll slowly, there are some real gems here. You may notice some big names missing here. Well, you know you can find those mp3s elsewhere (right?).
I will be putting up best of 2009 posts all week, so make sure you check back here soon. Also, if you haven't already, you should check out largehearted boy's 2009 Year-End Online Music Lists. Good stuff.
Without any further ado, I present the Top 109 Downloadables of 2009.
The Downloadables:
Glow Wreath (mp3) by Aa (BIG A little a)
Don't Lie (mp3) by Abe Vigoda
So Bored (Wavves Cover) (mp3) by Anamanaguchi
Two (mp3) by The Antlers
Perfect Fit (mp3) by Apostle Of Hustle
Walkabout (w/ Noah Lennox) (mp3) by Atlas Sound
Time (mp3) by Beach Fossils
Make You Mine (mp3) by Best Coast
Born On A Day The Sun Didn't Rise (mp3) by Black Moth Super Rainbow
Tin Birds (mp3) by Blank Dogs
Which One Of You Jerks Drank My Arnold Palmer? (mp3) by Blockhead
Name Tossers (mp3) by BOAT
Absolutely Anything (mp3) by Brilliant Colors
Rustic Arcadia (mp3) by Campfires
What's This Magical (mp3) by Celebration
Love Is A Wave (mp3) by Crystal Stilts
Pink Sabbath (mp3) by Dananananaykroyd
We're Not Going (mp3) by Darlings
Combination Pizza Hut And Taco Bell (Wallpaper. RMX) (mp3) by Das Racist
Cassette Tape (mp3) by Day Of The Woman
Digital Haircut (mp3) by dd/mm/yyyy
BEAD (mp3) by Dinowalrus
Useful Chamber (mp3) by Dirty Projectors
Knotty Pine (mp3) by Dirty Projectors + David Byrne
The Lie/The Truth (mp3) by Double Dagger
Moon Fallout (mp3) by Dragon Turtle
I Remember (mp3) by Endless Endless Endless
Self Awakening (Take Remix) (mp3) by Ernest Gonzales
Thee Only One (mp3) by Frankie Rose
Greg The Nerd (mp3) by Frat Dad
Surf Solar (Edit) (mp3) by Fuck Buttons
Arming Eritrea (mp3) by Future Of The Left
When They Fight They Fight (mp3) by Generationals
Prize Fighter (mp3) by Golden Triangle
Two Weeks (mp3) by Grizzly Bear
Dreamsucker (mp3) by Grooms
In The Dark (mp3) by Gun Outfit
Friendly Ghost (mp3) by Harlem
Before Tigers (CFCF RMX) (mp3) by HEALTH
Fangela (mp3) by Here We Go Magic
Stats And Demographics (mp3) by Huak
Rising 5 (mp3) by Hudson Mohawke
Young Hearts Spark Fire (mp3) by Japandroids
Bone Jam (mp3) by Jeff The Brotherhood
West Coast (mp3) by Junk Culture
Dimensional Bleedthrough (mp3) by Krallice
Overnite Religion (mp3) by Kurt Vile
Beach Town (mp3) by Le Loup
Roses In The Park (mp3) by Liechtenstein
Tambourine (mp3) by Little Girls
Red Oak Way (mp3) by Lotus Plaza
Forever (mp3) by Love Of Diagrams
100 Flowers (mp3) by Lovvers
Junked! (mp3) by The Mayfair Set
Asleep At A Party (mp3) by Memory Cassette
Lips (mp3) by Micachu & The Shapes
Blues Not Speed (mp3) by Mika Miko
1,2,3 Partyy! (mp3) by Mission Of Burma
You're A Target (mp3) by No Age
Invisible Cities (mp3) by NOMO
Two-Headed Coin (mp3) by Obits
When Your Mask Is Your Revealing Feature (mp3) by The Oranges Band
Young Adult Friction (mp3) by The Pains Of Being Pure At Heart
Fences (The Soft Pack Remix) (mp3) by Phoenix
Goth Star (mp3) by Pictureplane
Sinister Skies (mp3) by Pollination
Preparation's Kids Choir (mp3) by Prefuse 73
First Daze (mp3) by Pterodactyl
Gigantic (Pixies Cover) (mp3) by Puttin' On The Ritz
Passion Of Saint Edmund (Rebirth) (mp3) by railcars
Fake Blues (mp3) by Real Estate
Bell (mp3) by Screaming Females
Truth Is (mp3) by The Sky Drops
Crown On The Ground (mp3) by Sleigh Bells
C'mon (mp3) by The Soft Pack
Los Angeles Guitar Dream (mp3) by Spanish Prisoners
Got Nuffin (mp3) by Spoon
Billy Ocean (mp3) by Super Tennis
Swim (To Reach The End) (mp3) by Surfer Blood
Ghost Colony (mp3) by Tape Deck Mountain
Where Was My Brain? (mp3) by Ted Leo + The Pharmacists
Portofino (mp3) by Teengirl Fantasy
Kilometer (mp3) by Tempo No Tempo
Ruby Go Home (mp3) by Thee Oh Sees
Move To California (mp3) by Times New Viking
Blessa (mp3) by Toro Y Moi
Shark Suit (mp3) by UUVVWWZ
When I'm Gone (mp3) by Vivian Girls
Belong (mp3) by Washed Out
Mickey Mouse (Demo) (mp3) by Wavves
Homeopathic Valtrex (mp3) by White Shit
Psychic City (mp3) by YACHT
Ambling Alp (mp3) by Yeasayer
Gumball Machine Weekend (mp3) by Yppah
Sooner Or Later (mp3) by ZAZA
UPDATE: I knew I forgot something…
Coat Of Arms (mp3) by Nosaj Thing
If you want to download all the individual tracks in this post, you should think about installing the DownThemAll! Firefox extension.

More Best of 2009 Coverage:
Albums | Videos | MP3 Blogs | Photos | Mixtape | Free Albums | Off My Radar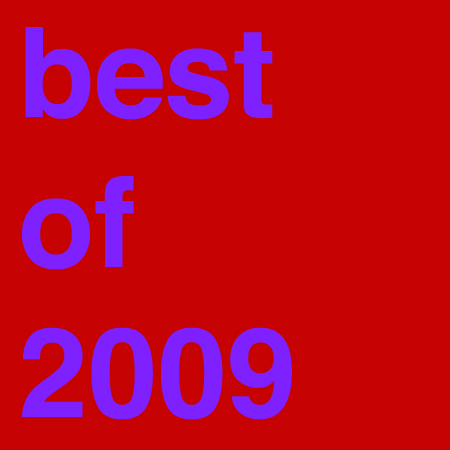 (Slightly) Related Posts: