THIS FRIDAY: pow wow! / Eula / Renminbi / Taigaa!
When: Friday, July 31
Where: Bar Matchless 8pm only $5
Who: pow wow!
Listen: So Weird (mp3)
Who: Eula
Listen: Housewolf (mp3)
Who: Renminbi
Listen: Set-Up (mp3)
Free Album: Surface
Who: Taigaa!
Listen: In The Decay (mp3)
Why: umm, Eula and Renminbi in particular, but it seems a pretty solid bill. You should totally go.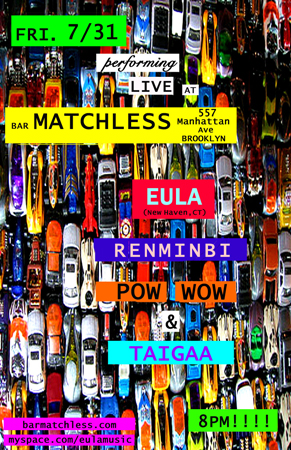 (Slightly) Related Posts: