mp3s :: The April 2009 Mix
It's time to look back and reflect again. What were we listening to one year ago?
Listen to the April 2009 Mix to find out…
Downloadables:
Arming Eritrea (Live @ WOXY) (mp3) by Future Of The Left
Hyts Of Summer (mp3) by Knyfe Hyts
Song 17B (mp3) by The Austerity Program
Tin Birds (mp3) by Blank Dogs
Cheap Wine River (mp3) by Experimental Dental School
Pink Sabbath (mp3) by Dananananaykroyd
Billz (mp3) by Team Robespierre
Weak For Me (mp3) by Nite Jewel
Cassette Tape (mp3) by Day Of The Woman
Born On A Day The Sun Didn't Rise (mp3) by Black Moth Super Rainbow
Invisible Cities (mp3) by NOMO
Power Supply (mp3) by Anamanaguchi
Psychedelic Tits (Live @ WOXY) (mp3) by Harlem
The Freak Was Clean (mp3) by Thee Oh Sees
Stop Stomp Stompin' (mp3) by The Coathangers
Fate To Fatal (mp3) by The Breeders
Los Angeles Guitar Dream (mp3) by Spanish Prisoners
Heard You Wanna Beat Me Up (mp3) by The Strange Boys
If you like what you hear you should probably purchase additional music by the above artists from any of these fine online retailers:
Insound | Amazon MP3 | eMusic | Other Music
If you haven't done it already, make sure you check out the other monthly mixes.
Also, If you want to download all the individual tracks in this post, you should probably think about installing the DownThemAll! or FlashGot Firefox extensions.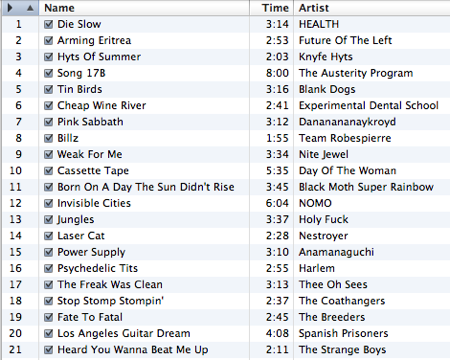 (Slightly) Related Posts: